See All
Colleges >
Colleges That Do Not Require SAT Scores
Colleges That Do Not Require SAT Scores
Concerned about your test scores? There are actually plenty of colleges that don't require SAT scores to apply.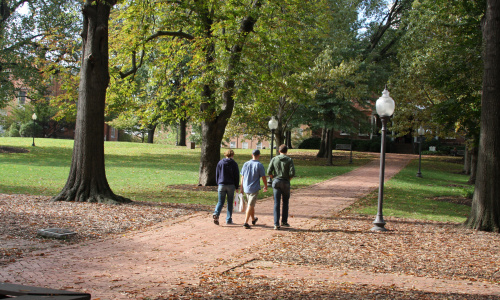 Photo: Thinkstock
Do you freeze as soon as you hear the word "test" mentioned? Would you go so far as to say you have test-taking anxiety? Have you dreaded applying to colleges because of low SAT scores or, at least, the fear of them?
Well, fear no longer. The SAT's are no longer necessary to go to college, even for some of the nation's top universities.
Twenty-seven of the U.S. colleges that do not require SAT scores rank highly nationwide.
Why Isn't The SAT Required?
There has been much debate over the years over how accurate SAT scores are in evaluating a student's academic and intellectual abilities. Many believe that the test is too narrow in the skills it assesses. Also, since test anxiety is quite common with tests like the SAT, a highly competent student can score low.
With this knowledge, many schools (some going back as far as 20 or 30 years) do not require the SAT. Some dropped the requirement over the past five or ten years and more are joining them every year.
Yeah, But Is That a School I'd Really Want To Attend?
The interesting thing is that many of the schools that do not require the SAT are actually quite high-ranking. In fact, according to a report from ABC News, 27 of the U.S. colleges that do not require SAT scores rank highly nationwide.
Could You Give Me Some Specifics, Like Which Schools, Exactly?
Among the smaller, private colleges that do not require the SAT are top-tier schools like:
Larger universities that don't require the test include:
How Do I Find Out If The School I'm Interested In Requires The Test?
Going to a school's website or contacting them directly by email or phone is one way to find out if your prospective school requires the SAT. There are also places online which list all of the schools which do not require it. One good place to check is the Test Score Optional List at FairTest.
There Is Always The Exception…
However, even after you check this list or the school's website you may still want to contact the school directly, as there are certain exceptions.
Some schools may not require it for the majority of students, but still require it for some. For example, they might require it for those applying to certain academic programs such as nursing.
If you wish to take the test anyway and send your score to a school that doesn't require it, you may do so. After all, if you have a good SAT score it can only help enhance your college application.
People Who Read This Article Also Read:
SAT or ACT: Which Should You Take?
Should You Send All of Your SAT Scores to Colleges?
What's a Good SAT Score or ACT Score?
Low SAT or ACT Test Scores? You Still Have College Options

Advertisement
Visit Our Student Center

Get on track!
And find out everything you need to know about planning for college.
Advertisement