See All
Colleges >
Finals: Balancing College Exams and Essays
Finals: Balancing College Exams and Essays
Understand how to balance studying for college exams and writing essays during finals.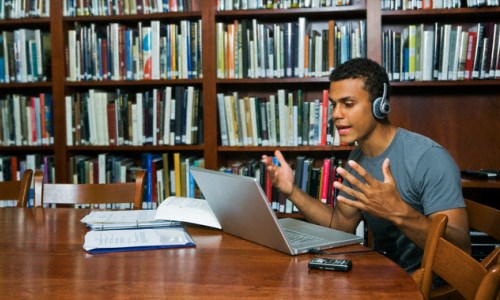 By Caroline Shannon-Karasik
The comparison of finals exams to essays is like that of apples to oranges –– they just aren't one in the same. That means when the two are combined, the task of tackling finals can seem rather daunting.
This comparison doesn't mean the two can't work well together. In fact, education experts are confident that with the right study tactics, final essays and exams can be easily juggled during an otherwise hectic time of the school year. Follow the tips below to sail through finals week with confidence, organization and precision.
1. Get flexible with different types of activities.
No, a yoga class won't exactly help in this situation. (However, studies do show a sweat session can improve memory function.) Instead, Joe Hardy, Ph.D., vice president of research and development at Lumosity suggests that an ability to multitask and shift your focus of attention will help make the shuffle between essays and exams seem easier.
"Training your brain's task switching abilities and information processing can help you adapt to changing circumstances and shift attention in complex situations," Hardy said.
Test your skill with brain games, like Memory Match Overload and Word Bubbles.
2. Devise a study plan.
Dr. Gregory Ford, professor of biology at Morehouse College, points out that a final exam and essay both serve the same purpose, "which is for students to apply information learned to a situation, whether a set of problems or a research question."
"Learning has to happen in a continuum," he said. "The goal should not be to learn enough information to pass a test then start all over and re-learn it for a final exam or re-learn it while writing an essay."
Ford suggests students make a calendar for the entire semester and record actual activities that can be reviewed regularly.
"If you stick to a plan, your life will be balanced from day one and that balance will carry you through a successful semester," he said.
3. Design an essay outline.
Isa Adney, author, columnist and higher education consultant, said her number one task before writing an essay was to start an online on the day she received an assignment, followed by a day of research. The next few days included pairing her research with the outline and then writing the first draft. Adney said that left plenty of time for editing and final touches.
"While that was going on, I'd be studying for an hour at a time each day for each exam, and be sure to set up some study groups to talk about the material right before the test," she said. "I also always made practice tests for every exam, which was a huge lifesaver. But the key is to be studying every day, so that you won't need to spend a lot of time in the last few weeks cramming –– because cramming doesn't work. And, you want to make sure you do have the time to really do the essay right."
4. Manage your test time wisely.
Every student knows that some final exams include an essay portion. In that event, it is important to carefully plan your test-taking time, said Patricia Geehr, director of Academic Support Center at Fairleigh Dickinson University's College at Florham (in Madison, NJ).
"Do short-answer questions first because they may have information that will help with an essay answer," she said. "Then, do the essay. (Be sure to) go back to short answers afterward to be sure you did not miss any. Avoid changing your answers unless you are absolutely certain that the answer is wrong because research shows first instinct is often correct."
5. Identify your learning style.
Adney pointed out that no matter how many essays or exams she had on her plate, the best way to accomplish her finals' tasks was to plan accordingly.
"For me, it was all about balance," she said. "I commuted, so I would often spend all the time I wasn't in class in the library. It helped me focus and actually feel good about studying."
Adney said she would also vary the manner in which she studied to avoid feeling overwhelmed. "The key is being dedicated without getting yourself overwhelmed," she said. "It requires a lot of effort, but if you plan it right, then it becomes satisfying and not stressful."
Quick Tips
Plan, plan, plan. The right study approach can make all the difference when tackling finals exams and essays.
Keep your brain "in shape" by playing memory games that will improve your ability to switch between test-taking tasks.
Design an outline before writing an essay in order to more easily manage the structure.
Identify your most successful learning tactics and apply them to your studying process.
People Who Read This Article Also Read:
7 Best Study Tips for College Students
College Essays: Tips and Sample Questions
3 Finals in 2 Days: Maximize Study Time
5 Study Tips for Tactile Learners

Advertisement
Visit Our Student Center

Get on track!
And find out everything you need to know about planning for college.
Advertisement