See All
Colleges >
Best Jobs for History Majors
Best Jobs for History Majors
Search through the best history major jobs and the top careers for history majors.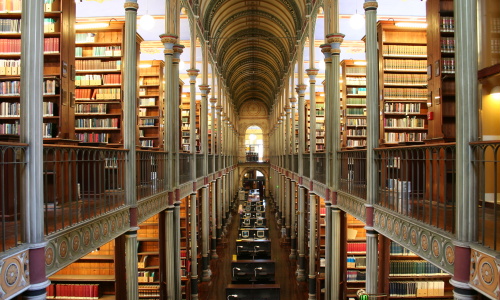 Photo: Thinkstock
By Adam Jazairi
Being a history major isn't always easy. It's a challenging field, requiring both analytical and creative thinking. Yet for most history students, the biggest headache comes outside of the classroom, when they have to put up with a consistent nagging question: "What are you going to do with your life?"
Contrary to what your parents might think, there are plenty of jobs for history majors out there. In fact, the skills you learn as a history major are applicable in many more occupations than you'd think. Here's a list of a few of the best jobs for history majors.
What They Do: Most commonly, historians teach, research and publish in an academic context. However, others may manage archives, curate historical sites, or manage special collections libraries.

Salary: The median salary in 2010 was $53,000, but historians with a PhD typically earn more than that.

Demand: Just like the field they're devoted to, historians cover a wide range of territory. They can be found in the government, libraries, museums, archives and even corporations. The study of history is surprisingly prevalent.

Prerequisites: A master's degree in history is necessary, but the best jobs usually require a PhD.
What They Do: Archivists are devoted to the preservation of important information, whether for a private company, a nonprofit organization or the government.

Salary: Archivists tend to earn about $45,000 per year.

Demand: Due to the increasing digitization of information, archivists are in relatively high demand. Concentrate in digital archiving to increase your employability.

Prerequisites: Most employers like to see a master's degree in information with a concentration in archiving & preservation.
What They Do: From divorces to patents, lawyers are responsible for solving legal disputes. The emphasis on logic, close reading and persuasion makes this one of the more common jobs for history majors.

Salary: The median salary in 2010 was $112,000, but this will vary depending on the position.

Demand: Competition is stiff for lawyers. This is a profession that only the most driven and passionate people should pursue.

Prerequisites: An LLM or JD is necessary, depending on what you'd like to do.
What They Do: Curators handle the administrative and artistic angles of museum management. This can include designing and researching exhibitions, purchasing art, or fundraising, among others.

Salary: The Bureau of Labor Statistics estimates an average salary of about $42,000 for curators, museum technicians and conservators. However, curators make much more than museum technicians and conservators.

Demand: The demand for curators is expected to grow, but positions are limited. A good way to get a leg up on the competition is to get a museum studies degree.

Prerequisites: A master's degree in Museum Studies, Art History or a related field is the basic requirement. Larger, more prestigious institutions require a PhD.
What They Do: Either working in the field or in a classroom, anthropologists study and teach human culture and language. If you're interested in the humanistic aspect of history, this could be a good career to pursue.

Salary: The average salary is $54,000, depending on education and experience.

Demand: The field is supposed to grow by more than 20% over the next decade, but there are more applicants than jobs available, so expect challenging competition.

Prerequisites: A bachelor's degree in history will give you a solid foundation, but in order to work as an anthropologist, you'll need a master's or PhD.
Sources: Bureau of Labor Statistics
Advertisement
Visit Our Student Center

Get on track!
And find out everything you need to know about planning for college.
Advertisement