SAT: The Essentials
What to expect from the SAT and how to do your best.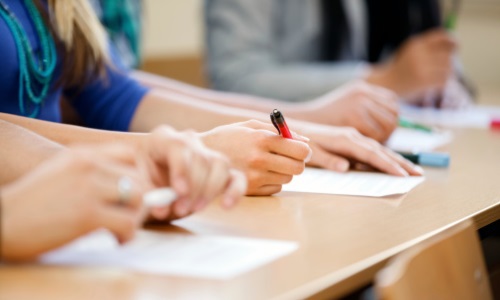 Photo: Thinkstock
The SAT Reasoning Test is a standardized test that assesses your reasoning and problem-solving skills and assists colleges and universities in evaluating candidates and determining their qualifications for admissions into their schools.
Your scores on the SAT are an important part of your application package when applying to four-year colleges and universities; while you may find a college that doesn't require standardized tests in addition to your high school transcript, you should still make sure you take the test and do your best to maximize your college options. Students planning to attend community colleges, get online degrees or take distance learning courses should contact the schools they're considering to find out if they require the SAT.
Consider retaking the test if you're not happy with your score.
SAT Test Sections and Scores
The SAT tests students in three areas of their education (critical reading, math, writing) divided into ten testing sections. There are three sections in each area, plus a tenth variable section used to test out new questions. This section can either be writing, reading or math and doesn't count toward your score.
The majority of the questions are multiple-choice, and each section tends to be progressively more difficult than the last. The writing section includes an essay to be written by the student, and the math section contains student-produced responses, also known as grid-ins. In the grid-ins, you won't be given answer choices; you'll have to enter your answer in a grid.
Students receive a score between 200 and 800 in each area and a combined score for all three, with additional subscores for the essay and multiple-choice writing questions. The SAT is scored on a curve, meaning that a score of around 500 in one area, and 1500 as a combined score, indicates that you scored about as well as half of the test takers on the date you took the test. As you're doing your college search, keep track of the SAT requirements when you find a college you like. This will help give you a range to shoot for when taking the test.
SAT Components
The SAT takes about four and a half hours to complete, including time for instructions and breaks. The actual time you'll be working on the test is 3 hours 45 minutes. Here's how long you'll spend on each area:
Writing: 60 minutes (including a 25-minute essay)
Critical reading: 70 minutes
Math: 70 minutes
Variable: 25 minutes

SAT Test Dates and Costs
The SAT is offered seven times a year, generally in October, November, December, January, March, May and June. It's best to take the test during your junior year so you have time to retake it if necessary. Keep in mind that it can take up to six weeks to receive your scores, so be sure to register for the test at least two months before your deadlines for scholarships and admissions to colleges and universities. Make a list of deadlines as you're doing your college search to ensure you don't miss one.
The cost for the test is $49; $78 for students testing in countries outside the U.S. Register to take the test on the College Board site, where you can also view your scores when they become available. After the test results are posted online, a printed copy is also sent to your home address.
SAT Tips & Tactics
Need help prepping for the test? These programs can help; check them all out to find the program that best suits your needs:
Be careful making guesses. Unlike the ACT, the SAT test deducts a ¼ point from your raw score for each answer you get wrong. One exception: Points are not deducted for wrong answers in the math grid-in section.
Consider retaking the test if you're not happy with your score, like if it's below the cutoff at your top-choice university or you scored low in the sections you're considering as college majors or post-college careers. You can take the test as many times as you like, but twice is standard. The degree to which your score will improve if you take the test multiple times is fairly small, especially since test burnout will likely kick in. Most students try to take the test at the end of their junior year or at the beginning of their senior year to allow time to retest if necessary. According to the College Board, which administers the test, more than half the people who retake the test in their senior year improve their scores.
People Who Read This Article Also Read:
SAT Subject Tests: the Essentials
ACT: The Essentials
SAT or ACT: Which Should You Take?
Should You Send All of Your SAT Scores to Colleges?

Advertisement
Visit Our Student Center

Get on track!
And find out everything you need to know about planning for college.
Advertisement