See All
Colleges >
13 Colleges With Halloween Spirit
13 Colleges With Halloween Spirit
Check out these fun Halloween traditions at colleges that enjoy a trick and a treat.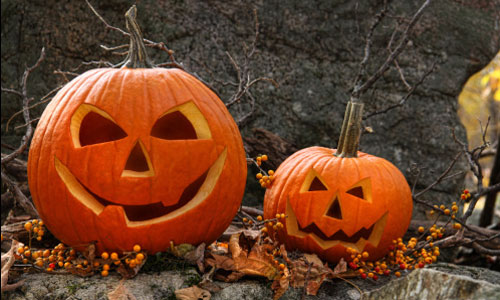 Photo: ThinkStock
Halloween is the most popular holiday on college campuses across the country — everyone dresses up in costumes, they go out to parties — but, you probably don't know that many college campuses have a ghoulish side with Halloween-inspired traditions of their own.
13. The Healy Howl
Every year students at Georgetown University gather at the cemetery near Healy Hall on campus and watch "The Exorcist," which was filmed there. When the clock strikes midnight everyone howls at the moon.
These colleges make trick-or-treating look like child's play with spooky ghost walks and thrilling costume events.
12. Spooky Skies at RVCC
Raritan Valley Community College (RVCC) has an amazing show at the planetarium in honor of Halloween. The show explains the history of Halloween in medieval Ireland and draws parallels to the constellations and the famous celestial monsters in the sky.
11. Arboretum Pumpkin Festival
The beautiful Arboretum at Penn State hosts an annual pumpkin festival that includes a pumpkin carving contest and a jack-o-lantern display, among other festive activities.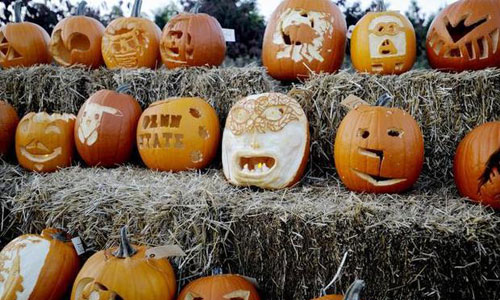 10. The Dartmouth Jack-o-Lantern
While this one isn't an event, we thought you'd enjoy the fact that Dartmouth has the longest running publication dedicated to satire and parody called "The Jack-o-Lantern." Famous writers like Theodor "Dr. Seuss" Geisel and Chris Miller ("Animal House") were members of this college rag.
9. An Isla Vista Halloween
There's nothing scarier than 12 days of college parties. Known as the largest and wildest Halloween haven, UC Santa Barbara's neighborhood I.V., has been known to extend parties beyond All Hallow's Eve. In 2012, there were over 400 arrests and citations! We're guessing there are a lot of zombies on campus in early November.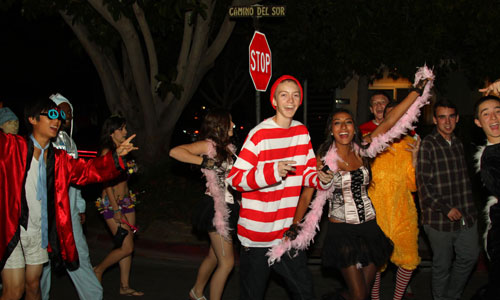 8. Halloween Concert
Carleton College hosts an eerie concert with an orchestra dressed in costumes for an entire audience — you guessed it — dressed in costumes. Students love the event, especially the wicked costume contest afterwards, where students have been known to dress up in group costumes like the cast of "Toy Story."
7. A Walking Ghost Tour
Each year Lebanon Valley College is the haunted home of a ghost tour run by English professor Kevin Pry. During the tour he shares the 18-20 ghost stories lurking among the old buildings for students, parents and faculty.
6. Halloween Harvest Festival at Pierce College
If you enjoy the terror of being lost, than a large corn maze at the Pierce College Halloween Harvest Festival will be a big treat. The maze has expanded to six acres!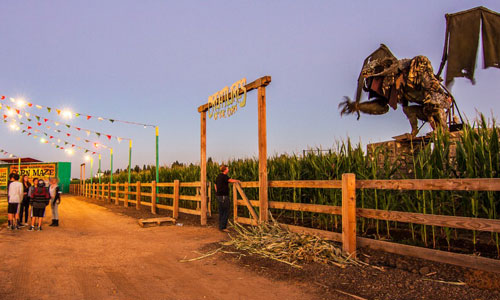 5. I See Dead People 101
In true academic fashion, Roanoke College in Salem, Virginia hosts a class called, "Intellectual Inquiry: Ghosts and Human Perception," where students learn about paranormal activity and even stay in a haunted building on campus.
4. All Hill Halloween
Students at UCLA partake in the sweeter side of Halloween. The college hosts 2,500+ kids to safely trick-or-treat safely from dorm room to dorm room, instead of house to house.
3. Wicked Woods at Texas A&M
If a haunted trail isn't scary, we're not sure what is. Every year students at Texas A&M create a scary 15 minute trail through five acres of eerie back woods. The event is hosted by the Kappa Sigma Fraternity to benefit the Military Heroes Campaign and the Brazos Valley Food Bank.
2. Night of the Living Cardboard Canoe Race
The University of Connecticut hosts one of the most chilling events for Halloween. On the Thursday prior to the holiday teams of students make themed cardboard canoes with their Halloween costumes and race. Awards like "Best Vessel Design," "Coolest Halloween Costumes" and "Most Memorable Capsize," make this annual event unforgettable.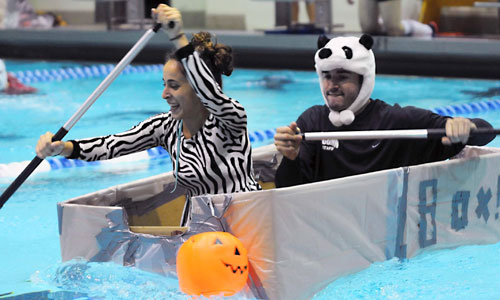 1. The Pumpkin Drop at MIT
What's better than a show of pumpkins being dropped from the tallest buildings on campus? Students at the Massachusetts Institute of Technology freeze the pumpkins so they explode better — a perfect pairing for the fireworks display. Talk about a fun Halloween tradition!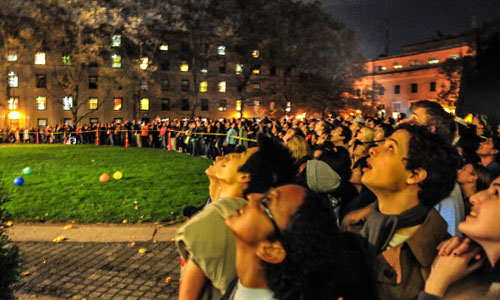 These colleges make trick-or-treating look like child's play with spooky ghost walks and thrilling costume events. If you're around any of them or you're looking for a college to please your inner Halloween fan, you should probably check them out, especially if you have a cool costume planned.
People Who Read This Article Also Read:
9 Most Haunted Colleges
7 Colleges With the Most Spooky Dorms
10 Scariest College Mascots
8 Colleges With Creepy Classes
Advertisement
Visit Our Student Center

Get on track!
And find out everything you need to know about planning for college.
Advertisement