See All
Colleges >
How to Complete Your FAFSA
How to Complete Your FAFSA
What is the FAFSA? Learn more about what the Free Application for Federal Student Aid (FAFSA) can do for you.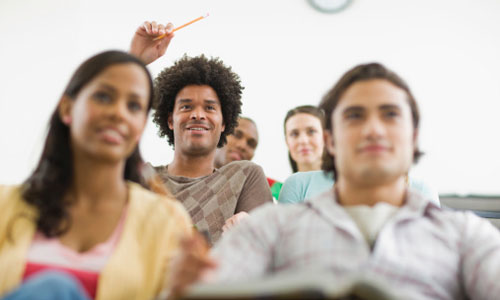 Photo: ThinkStock
The Free Application for Federal Student Aid (FAFSA) is one of the most important components of the college planning process. Many students do not know that completing the FAFSA online is a simple way to see if you qualify for federal, state and campus financial aid for college. Recent changes to the online application have made it even easier to fill out, but we've also provided some helpful tips as you go through the application, step by step.
The FAFSA form is your ticket to federal aid, the largest source of money for students pursuing their college education. Even if you're not sure you qualify for federal aid, you should still submit the application form to find out. Education grants and other types of college aid allow students to pay the tuition and other costs at schools they otherwise wouldn't be able to afford.
The earlier you submit the form, the better your chances will be in receiving college aid because some aid is only available on a first-come, first-serve basis.
What is the FAFSA?
The FAFSA is available online or from a high school counselor. Students complete the application to see if they qualify for federal aid they can put toward their college degree. The FAFSA even qualifies students for other types of college aid, such as state aid, private awards and institutional aid. College aid and state aid are often grants, scholarships or student loans, however, student loans will have varying interest rates. Be sure to compare student loans if your financial package includes different types of loans to be certain you are getting the best possible rates.
What You Need to Complete the FAFSA:
To get through the process of filling out the FAFSA more easily, gather the following documents before you start:
Records of income (such as W-2 forms) for yourself and your parents, if you're considered a dependent on their tax returns
Income tax returns for you and your parents, if you're a dependent
Bank statements, mortgage information, investment records
Make a photocopy of the above documents and keep them handy. If your application is lost or doesn't go through on the website, this will make it easier for you to re-submit your application. Also, each year a number of applications are selected for verification, a process in which your high school has to verify what you submit on your FAFSA. You may be required to show these documents during verification, so it's good to have them on hand.
How the FAFSA Process Works
Once you've gathered all the necessary documents, print out a FAFSA on the Web worksheet. Then apply for a Federal Student Aid PIN. This PIN allows you to sign your documents electronically and gives you access to view your federal aid documents online.
When you're ready, fill out the FAFSA. You can submit your FAFSA as early as January 1 and as late as June 30. The earlier you submit the form, the better your chances will be in receiving college aid because some aid is only available on a first-come, first-serve basis.
After you submit your application, you'll receive your Student Aid Report (SAR), which will summarize the information you entered on your FAFSA, let you know if there are outstanding questions about your application, inform you if your application has been selected for verification and tell you some of the types of aid, such as federal grants, that you're eligible for.
Then, when colleges and universities accept you into their college program, they'll review your Expected Family Contribution (EFC) against their Cost of Attendance (COA), which includes tuition, room and board and other education-related costs. Next, they'll send you an award letter outlining the specific federal grants, college loans and work-study programs available for you.
You will then evaluate the award letters as you decide which school and college program that's best for you. Once you've decided on the college or university, you'll accept the financial aid package at the college you are attending. Keep in mind that college loans, unlike education grants and scholarships, will need to be paid back, so be sure you read the fine print on the repayment policies and interest rates before you confirm your admission and financial aid.
Quick Tips
Completing your tax documents early will make it easier to fill out your FAFSA form. You're not required to have your tax returns when you file, but it can help.
Get a headstart on your FAFSA form by filling out a FAFSA4caster form. This worksheet lets you familiarize yourself with the FAFSA process and allows you to transfer over any data you enter onto the FAFSA form when you're ready to complete it. It will also estimate some of the federal money for college you can expect to be offered.
Not sure if you're a dependent? Find out your dependency status on the Federal Student Aid website.
Find out if the colleges and universities you're applying to have their own deadlines for college aid forms. Don't assume the FAFSA dates are the only dates you need to follow.
People Who Read This Article Also Read:
How to Apply for Financial Aid
5 Helpful FAFSA Tips
Changes to the FAFSA Form Make It Easier to Complete
Understanding Student Aid: Federal, State and College Aid
Are You Eligible for Federal Financial Aid?
What to Do When You Receive a Student Aid Report (SAR)

Related Timeline Articles
Advertisement
Visit Our Student Center

Get on track!
And find out everything you need to know about planning for college.
Advertisement