See All
Colleges >
Military Scholarships
Military Scholarships
Scholarships for veterans and their families are quite common. Learn about ROTC scholarships, scholarships for military spouses and children, and how you can apply.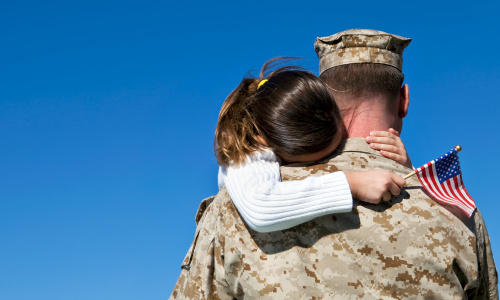 Photo: Thinkstock
If you've served in the military, you're probably aware of the GI Bill and the many tuition benefits available to military personnel.
But did you know that military students (and members of their families) are also eligible for scholarships that can further help with the costs of higher education?
From ROTC scholarships to private endowments, students with military experience have plenty of opportunities for financial assistance in college.
While some military scholarships are privately endowed, the government issues many of them.
2011/2012 Military Scholarships
While some military scholarships are privately endowed, the government issues many of them. The most well-known of these are the ROTC scholarships, but not all military scholarships require you to enlist. Some awards are based on family experience. We've put together a list showing some of the variety in scholarships pertaining to the military.
*Air Force ROTC Scholarship
Award: Full tuition (including a living expenses stipend and $900 for books)
Overview: If you're an exceptional student looking to join the Air Force, ROTC is definitely worth looking into. The Air Force ROTC covers students' full tuition with extra money for living expenses. There are similar scholarships for ROTC students in the Army, Navy, Marines and National Guard.
Requirements/eligibility: To apply, you must have a 3.0 GPA at the end of 10th grade and an ACT score of 24 or SAT score of 1,100. If you're selected for a scholarship, you are required to spend four years as an officer in the Air Force.
How to apply: Submit the required materials (counselor certification, extracurricular activities sheet, physical fitness assessment, résumé, and academic information) by January 14.
*Fisher House Scholarships for Military Children
Award: $1,500 minimum
Overview: If one of your parents is serving or has served in the military, these scholarships are a great opportunity. Winners are chosen based on academic achievement, co- and extra-curricular experience and work experience.
Requirements/eligibility: You must be a dependent of an active or retired military member, or a survivor of a serviceman who died while on duty or while receiving retired pay. Make sure that you and your sponsor are enrolled in the Defense Enrollment Eligibility Reporting System database. There's also a minimum GPA requirement of 3.0.
How to apply: Return your application (preferably in person) to a commissary by February 22. The Fisher House will notify scholarship recipients by May 3, and checks will be mailed around August 1.
*Pat Tillman Foundation Military Scholars Program
Award: Varies (based on need and merit)
Overview: Founded in the memory of the late NFL player and soldier Pat Tillman, the Military Scholars Program is designed to help service members and their spouses pay for college and graduate school.
Requirements/eligibility: Any veteran or active service member pursuing post-secondary education is eligible. Spouses of service members are also eligible if their spouse passed away or has insufficient benefits.
How to apply: The online application (available in January) includes three essay questions, proof of military service and a résumé.
*Dolphin Scholarship Foundation Grants
Award: $3,000
Overview: This unique scholarship is available to students whose parents have served on US submarines. The Dolphin Scholarship Foundation selects its recipients based on academics, financial need and extracurricular activities.
Requirements/eligibility: You must be the child or stepchild of someone who served eight years in the US Navy submarine force.
How to apply: Submit the online application by March 15.
*Military Service Recognition Scholarship
Award: Maximum of $11,120
Overview: This renewable scholarship covers up to four years of tuition at a New York school. It's designed for students whose parents were killed or injured in military service. The award amount is determined by the State University of New York tuition costs.
Requirements/eligibility: New York state residents whose parents died, are missing in action, or were permanently disabled in the military are eligible.
How to apply: Submit the online application and fill out the FAFSA by June 30.
Related Tools & Services
Campus Explorer is giving away free scholarship money every month. Enter for your chance to win one of the Campus Explorer exclusive scholarships now.


People Who Read This Article Also Read:
Vocational and Career Scholarships
Religious Scholarships
Community College Scholarships
5 Scholarship Essay Tips
Are There Weird Scholarships Out There for Me?
Scholarships for Moms, Foster Children and Special-Interest Students
Scholarships for Students with Disabilities
How to Apply for Scholarships
Beware of Scholarship Scams

Advertisement
Visit Our Student Center

Get on track!
And find out everything you need to know about planning for college.
Advertisement