See All
Colleges >
College Towns: Tempe, Arizona
College Towns: Tempe, Arizona
Learn more about Tempe, Arizona -- Home of Arizona State University.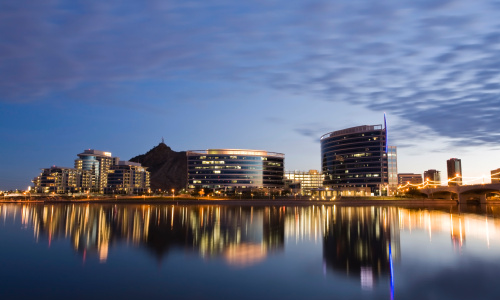 Photo: Thinkstock
The Town: Tempe, Arizona
Part of the greater Phoenix metropolitan area, Tempe, is home to 161,000 residents. It's far more than a suburb, however, as it has its own center of commerce and includes the headquarters for US Airways.
As part of the Southwest, the weather is warm year round. Due to the dry, desert climate, the evenings remain cool even when temperatures approach triple-digits during the day.
Mill Avenue district is where you'll find most of the bars and restaurants.
ASU is one of the most gorgeous college campuses you'll ever see. Classes are set among a series of connecting outdoor malls, and the entire school is enclosed within an arboretum. As you walk along campus, you'll see a 60-foot gold "A" atop Hayden Butte hill, a tribute to the largest university in the state.
Arizona State boasts one of the largest and best collections of art among public universities. The schools of engineering, business, law and psychology all rank in the top 50 in their respective programs, while the journalism school is annually in the top 10.
What to Do
Because Tempe is only eight miles from Phoenix, many ASU students venture downtown for the weekend once they're finished with classes. There's plenty to do if you stay on campus: ASU is annually rated among the most happening social scenes in the country for its active nightlife.
Mill Avenue district is where you'll find most of the bars and restaurants. The best part? It's an easy walk to Sun Devil Stadium, where the Arizona State men's football team plays.
Where to Eat and Drink
Much a Mania, located on University Drive, is the perfect college hangout. The giant portions are eclipsed by the giant menu, which offers breakfast and sandwiches at very reasonable prices. Most importantly, it has a personable staff at the kind of local mom-and-pop eatery you expect when you get to college.
Did You Know?
The annual rivalry between Arizona State University and the University of Arizona is known as "The duel in the desert."


People Who Read This Article Also Read:
The Top 40 College Towns in the US
College Towns: Ames, Iowa
College Towns: Urbana-Champaign, Illinois
College Towns: Corvallis, Oregon
College Towns: Bloomington, Indiana
College Towns: Logan, Utah
College Towns: Athens, Georgia
College Towns: Chapel Hill, North Carolina

Advertisement
Visit Our Student Center

Get on track!
And find out everything you need to know about planning for college.
Advertisement