See All
Colleges >
How to Use Continuing Education to Advance Your Career
How to Use Continuing Education to Advance Your Career
Furthering your education can lead to promotions or new opportunities all together. Find out how easy it is to make it happen.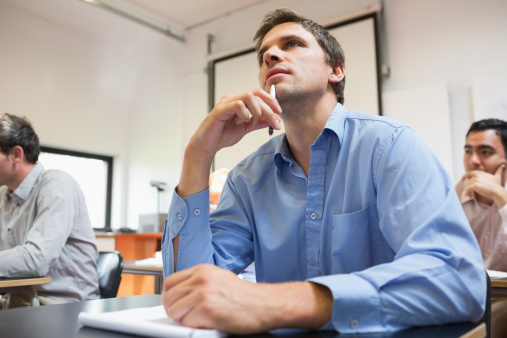 Photo: ThinkStock
If you're hoping to move up in the professional world, continuing education can provide the opportunities you need. By going back to school, you can gain new skills and bulk up your resume, effectively making you a more desirable job candidate.
However, you shouldn't jump in head first without proper research. Here are the steps to follow if you want to make the best decisions when it comes to pursuing continuing education classes for professional development.
Speak to your boss, your HR representative, your professional association or other industry professionals to learn more about what skills, certifications or degree you need to achieve your goal.
Step 1: Evaluate Your Goals
The first thing you need to do, if you're thinking about going back to school, is to evaluate your goals. Are you hoping to get a promotion at work? Are you looking for a pay raise? Do you want to move into a different field entirely? Answering these questions will help lead you to the right continuing education program.
For example, you may be able to get a boost in pay by earning a Project Management Certification. If you're looking to switch to a new industry, you may want to look at Master's Degree programs instead.
Step 2: Get Professional Feedback
Now that you have a specific goal in mind, it's important to get feedback from other industry professionals. This accomplishes two things. First, it helps you select the exact program for your needs. Second, it ensures that you are taking the right path to get to your intended goal.
Speak to your boss, your HR representative, your professional association or other industry professionals to learn more about what skills, certifications or degree you need to achieve your goal. It's also helpful to ask if they know of any reputable continuing education programs that offer these courses.
Step 3: Consider Money and Time Availability
Before enrolling in a program, you need to assess whether you can finance your continuing education courses. Programs can cost anywhere from under $100 to several thousand dollars to complete. Make inquires about monthly payment plans and student loan options before you commit.
Just as important as your money is your time. Even if you can easily afford a continuing education class, do you have time to complete it? Time management is critical if you're going to juggle work and school, so make sure you have time in your schedule for both.
Step 4: Pick the Right School
Once you're ready to sign up, do plenty of research on each continuing education program that you're considering. Are they accredited? Do their professors have real-world experience? Is there an option to complete all or part of your program online?
These are all important questions to consider. If you have the resources, consider taking classes through a top university. Penn State, New York University and the University of Michigan all offer top-rated adult education programs.
Still searching for a place to take continuing ed classes? Use our college search to find local colleges.
Quick Tips
Certain programs are more readily available than others. Some of the most popular continuing education programs include Microsoft Office, project management and accounting. You may have to search harder or take classes online for something more specific, like global commerce or child psychology.
Consider online degree programs if you have a busy schedule. Rutgers is just one example of a highly regarded educational institution that offers online continuing education courses online.
Always ask your employer if they offer any tuition reimbursement plans. These programs offer stipends to employees who are taking professional development courses.
People Who Read This Article Also Read:
What is Continuing Education?
Adult Student's Study Guide
Financial Aid Advice for Adults Going from Careers Back to College
New Year's Resolutions for Adult Students
How School Has Changed: A Guide For Adult Students

Quick Search: Find the College that's Right for You!
Advertisement
Visit Our Student Center

Get on track!
And find out everything you need to know about planning for college.
Advertisement