See All
Colleges >
College Bars and Beer Festivals: Student Drinking on Campus
College Bars and Beer Festivals: Student Drinking on Campus
Learn about student drinking, and find some of the best bars and festivals at colleges across the country.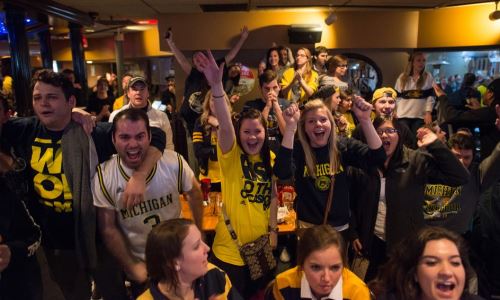 There's no denying it: drinking is a part of the majority of college campuses. After a tough week of classes or an agonizing exam, few things feel better than hitting the bars with your friends and having a couple of rounds. It's a great way to relax, have fun, and forget about school for a few hours.
As long as you're of age of course.
Bars are expensive, and finding one that fits in your budget can be tricky.
The College Bar Scene: Finding Your Hangout
Every college will have bars nearby; the trick is finding the right ones. If you're looking for a great night out, chances are you'll want to find a place with plenty of fellow students. The differences between a college bar and a "normal" bar can be huge: the prices, atmosphere and crowd can vary greatly.
This is especially true with colleges that are more integrated with the town. At the University of Michigan in Ann Arbor, for example, most undergrads hang out at Good Time Charley's, while townies and grad students can be found at Old Town or Ashley's.
Another important thing to look for is happy hours and student specials. Bars are expensive, and finding one that fits in your budget can be tricky. Some happy hours last all day, but the better the happy hour, the shorter it lasts. At the Taco Shop @ Underdogs, a popular hangout for students at the University of California, San Francisco, $1 Margarita Friday lasts for just a half-hour.
Celebrate Good Times
Beer and wine festivals are a great, cheap way to drink with your friends. Luckily, a lot of them take place in college towns. Here are a few examples:
Ithaca Brewfest

Now in its fifth year, the Brewfest features beer from more than 45 breweries nationwide. It takes place on September 3, and it wouldn't be a bad way to celebrate the end of your first week of classes at Cornell or Ithaca College.

Austin Wine and Music Festival In Austin, even their wine festivals are accompanied by live music. This local wine festival takes place in the summer, and would make for a great break from that Texas heat.

Boston Beer Summit Bostonians take their beer seriously, as evidenced by this annual mid-April event. The Beer Summit emphasizes New England brews, with 200 beers from more than 50 breweries. Do you attend Boston U, Harvard, or Berklee College of Music? Then grab some friends, take a break from studying, and sample some local beer.

Different Types of College Bars
The Dive Bar
Example: Grassroots Tavern (New York City)
Dive bars are those ratty, rundown, little joints that we all love and hate at the same time (but mostly love). Sometimes doubling as a townie hangout, dive bars are popular with college kids because of their low prices and quirky character. Many dives often feature live music.
The Irish Pub
Example: Stout Public House (San Diego)
You don't have to have a brogue to hang out at these great bars. Irish pubs can be found on virtually any campus from Boston to Los Angeles. Grab a shot of Jameson, throw back a Guinness, and get ready to sing some drinking songs.
The Martini Lounge
Example: East End Oyster & Martini Bar (Chapel Hill, N.C.)
A great option for a classy night out, martini lounges generally offer a calmer, more relaxed atmosphere than other bars. Prices tend to be higher, though, so make sure you show up during happy hour.
The Sports Bar
Example: The Linebacker (South Bend, Ind.)
Sports bars capitalize on our love of college sports, and they do it well; they're the student favorite at most campuses. If you didn't get a ticket for the big game, deck yourself out in school gear and head to one of these joints. We guarantee that you'll find plenty of fans as rabid as you.
People Who Read This Article Also Read:
Drinking in College: Do You Want a Party School or a Dry School?
College Festivals
Spring Break: Beyond the Beach
Do Colleges Have School Dances?

Advertisement
Visit Our Student Center

Get on track!
And find out everything you need to know about planning for college.
Advertisement