See All
Colleges >
9 Most Haunted Colleges
9 Most Haunted Colleges
You might think you're scared of attending college, but you haven't seen anything until you've experienced these campuses.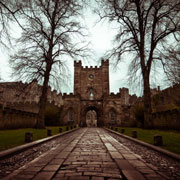 Typically, freshman year is scary because you're in a new place with new people, not because you're constantly haunted by several on-campus ghosts. These nine schools, however, seem to be the scary exception to that rule. Read on (unless you're alone on a dark, stormy night, in which case consider saving this article for the morning.)
1. Wells College
A bad flu epidemic spread across campus a long time ago, and Wells is still seeing the creepy repercussions, mostly in the form of nurse ghosts, security guard ghosts, and ghosts of former students holding knives. Sounds fun, huh?
2. Ohio University
Ohio University is so haunted that it was featured on the first episode of ABC Family's The Scariest Places on Earth. Perhaps the creepiest of all its ghost stories revolves around Wilson Hall's room 428 – once the home to a girl who committed suicide, it's now been permanently closed off after a number of paranormal sightings.
3. Gettysburg College
There's a reason this school's Pennsylvania Hall is included in one of the town's ghost tours: it was used as a hospital and signal post during the Battle of Gettysburg, and as a result, it's haunted by – you guessed it – dead soldiers. Goody.
4. Fordham University
Fordham's Bronx campus is creepy looking enough to have been featured in The Exorcist (no really, the campus was used in the filming of The Exorcist), and its plethora of ghost stories stand up to its frightening feel: the school, which dates back to 1841, was built atop some creepy buildings (think old hospitals and morgues) and is haunted by every kind of ghost, from children to priests. Sounds like a big smorgasbord of "no thanks!"
5. Pennsylvania State University
This school covers a lot of ghost ground: they've got a girl who haunts the library after being stabbed to death there in 1969, a garden-loving ghost who freaks when the plants haven't been taken care of, and even an old mule. Way to fulfill your diversity requirement, Penn State.
6. East Tennessee State University
An old university president is taking the phrase "power hungry" to a whole new level by haunting this campus years after passing away. If that's not creepy enough for you, there's also a ghost of a girl who jumped to her death - she can often be seen hovering around windows. Satisfied now?
7. Hollins University
Ghosts at Hollins are evidently the artsy type - one hangs out in the music building's practice rooms and another haunts the campus theatre. We're guessing this isn't helping students feel comfortable creatively expressing themselves.
8. California State University Channel Islands
This campus was a mental hospital until 1997, so who's surprised that students hear odd voices and see lights flickering? Not us! (Added bonus: the well from horror movie "The Ring" is located here. Yay.)
9. Kenyon College
Ghosts roam several parts of this campus in Ohio: the dance studio, the swimming pool, one of the frat houses, and a dorm where nine students tragically died in a fire. It sounds like Kenyon might have more ghosts than living, breathing students, which is kind of a skewed ratio in our book.
If you'd love to live inside a horror movie, you're welcome for the useful information; if you wouldn't, you're welcome for the nightmares. Either way, our work here is done.
People Who Read This Article Also Read:
13 Colleges With Halloween Spirit
7 Colleges With the Most Spooky Dorms
10 Scariest College Mascots
8 Colleges With Creepy Classes
Advertisement
Visit Our Student Center

Get on track!
And find out everything you need to know about planning for college.
Advertisement