See All
Colleges >
Colleges With the Best Pools
Colleges With the Best Pools
Take a dip at some of these unique collegiate swimming facilities.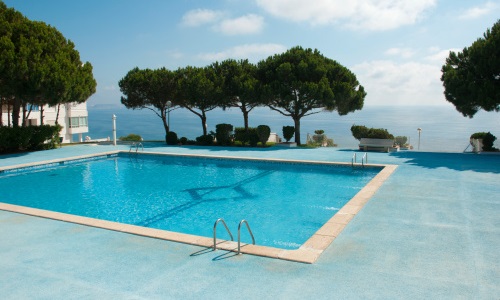 Photo: Thinkstock
At the end of summer break, you're probably feeling anxious to get back to campus. However, if there's one thing you'll miss the most about summer, it's going for a dip at the local pool. Fortunately, there are a few schools where you can get your swim on in an amazing pool right on campus. So whether you're a competitive swimmer or you just like to swim for fun, here are the U.S. colleges with the best swimming pools and swimming facilities, whether they're extra-large, fan-friendly or feature state-of-the-art technology.
University of Texas: Largest Aquatic Center
The University of Texas has one of the largest fitness facilities of any college in the U.S. with over 500,000 square feet of indoor space and 40 acres of outdoor activity space. Their Gregory Gym Aquatic Complex is one of the many fitness centers located on campus. It features two indoor pools – one for leisurely swims and one for doing laps. The same rules apply to the two outdoor pools, which get plenty of use in the hot Texas weather. The outdoor leisure pool is particularly large at 5,600 square feet. There's even an outdoor spa that holds up to 20 people. Once you're done with your swimming workout, you can head to the deck space and lounging ledge to catch some rays.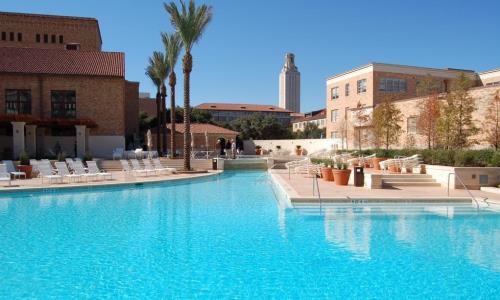 If you love swimming on a competitive level or just for fun, be sure to add these schools to your college search.
University of Minnesota: Best for Swim Fans
For athletes, few pools can compare to the one at the University of Minnesota. Called the University Aquatic Center, this facility covers nearly two acres of campus and includes an eight-lane, 50-meter competition pool. In addition, there's a separate diving well four diving platforms reaching heights up to 10 meters. It's also a popular space for major competitions since it features room for thousands of spectators as well as a state-of-the-art 21-by-10-foot digital video display (the largest permanent video installation in any aquatic facility in the U.S.).
Olympic and world champion diver Greg Louganis had this to say about the University Aquatic Center: "Minnesota's Aquatic Center is one of the most comfortable facilities that I have ever dived in. The lighting is excellent and the boards are smooth. I usually do not like to dive indoors, but of the indoor facilities that I have had to dive indoors in, this has to rate as one of the best."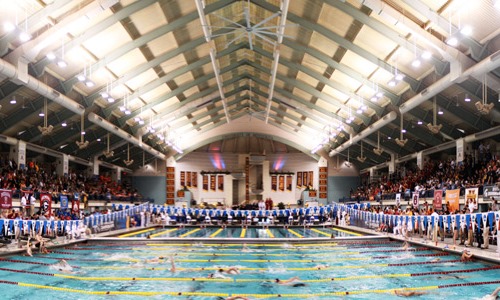 University of Cincinnati: Best
The University of Cincinnati might not be especially well known for sports, but they sure know how to create a top-notch fitness facility for their students. Included in this school's 200,000 square feet of recreation facilities is the Campus Recreation Center Aquatic Complex. This building houses three separate pools. The Keating Aquatics Center pool measures 50 by 25 yards and features two diving boards. Students can swim laps here or even take swimming lessons. The second pool is the shallow-water leisure pool, which has zero-depth entry along with fun and relaxing features, like a waterwall, a vortex, a current channel and a bubble couch. Finally, there's the whirlpool which seats up to 14 people and offers a great place to relax after swimming laps or hitting the books.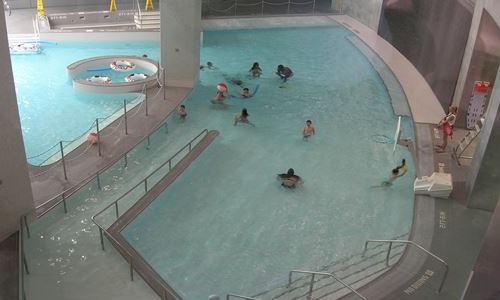 University of Missouri: Most Clean Pool
The fitness facilities at the University of Missouri have been noted as one of the best in the nation by none other than Sports Illustrated. Included in those state-of-the-art facilities is the massive Mizzou Aquatic Center with plenty of places to swim. For a great workout, students visit the 50-meter competition pool that offers free kickboards, pull-buoys and aqua jogging belts for use. Both this pool and the on-site diving well feature an advanced ultraviolet disinfection system, so fewer chemicals are needed to keep the pool clean. For a much-needed break from studying, check out the Tiger Grotto, complete with zero-depth pool entry, lazy river, waterfall, hot tub, sauna and steam room. When it's warm, an outdoor pool with a deck and lounge chairs is open.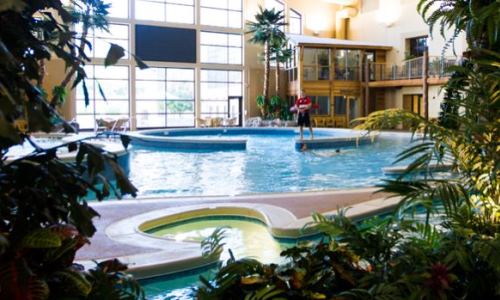 Thanks to these great college pools, you don't have to give up your daily lap routine or even your desire for the occasional hot tub escape. If you love swimming on a competitive level or just for fun, be sure to add these schools to your college search.
People Who Ready This Article Also Read:
Club Sports in College
College Water Polo: The Best Schools for Men's and Women's Water Polo
Colleges With the Best Weather
College Swim Tests
Advertisement
Visit Our Student Center

Get on track!
And find out everything you need to know about planning for college.
Advertisement