See All
Colleges >
Best Football Camps at Colleges
Best Football Camps at Colleges
Find out how attending summer sports camps can increase your chances of becoming a college athlete.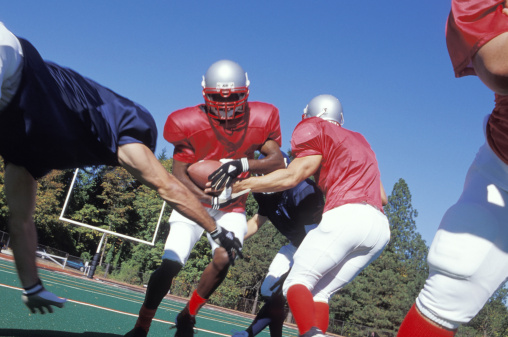 High school students looking to play football in college should consider spending part of their summer at a football camp. These intensive camps give athletes a chance to fine-tune their skills, play with talented players and be seen by coaches and scouts. We've put together a list of some of the best football camps held at colleges this summer. With famous coaches in attendance and the chance to play at some of the top football schools in the country, attending these camps may help you increase your chances of earning a spot on a college team one day.
University of Notre Dame Football Summer Camps
Dame is tied for the most national football championships in the nation, so it's no surprise that spots at the of Notre Dame Football Summer Camps are coveted among high school students. These camps, which are held on the beautiful school campus, are led by some of the best college coaches in the country and focus on specific aspects of the game. Players can choose among camps for linemen, passing or kicking.
ou don't have to be a senior in order to be scouted by recruiters. Even high school freshman can get noticed by recruiters if they have the talent and the motivation.
Location: University of Notre Dame in South Bend, Indiana Duration: 1-3 days Cost: $30-$450
Oregon Football Camps
The of Oregon is another big football school, boasting wins in some of the biggest bowls of the last few years. The Football Camps for high school students are organized by the Oregon football staff, ensuring that each player gets a great experience. The staff handpicks great college and high school coaches to assist in the trainings as well. Players can attend camp as an overnight or day camper. High school students can attend with their entire team or as an individual. There's also an option to take a camp focused on kicking and snapping.
Location: University of Oregon in Eugene, Oregon Duration: 1-3 days Cost: $125-$310
Rutgers Football Camps
University has one of the oldest and most successful football programs in the country, with their first game being traced back to 1869. To get a taste of the history and knowledge this program offers, check out the Football Camps held every summer. The Rutgers coaching staff enlists some of the top college coaches from around the country to help them educate high school athletes at these camps. Students can choose between an overnight camp (where they stay in the Rutgers dorms) or day camps. In addition to the basic football camp, there are also specialty camps for kickers, punters and snappers.
Location: Rutgers University in Piscataway, New Jersey Duration: 1-4 days Cost: $110-$385
USC Football Camps
The of Southern California is a football powerhouse that has had the most alumni players taken in the NFL Draft out of any college in the country. That fact alone makes the Football Camps some of the most popular football camps for high school students. These camps are led by the USC football staff, including the head coach. A separate Kicking Academy is available for placekickers, punters and snappers. There are also skill positions camps for defensive backs, linebackers, tight ends, running backs, receivers and quarterbacks.
Location: University of Southern California in Los Angeles, California Duration: 1-2 days Cost: $75-$350
Contact Football Camps
"Sports Illustrated for Kids" named Football Camps the "Top Football Camp" in the country. This camp program is actually held at several locations throughout the country, making it easier for players in various regions to attend. Current and former college players attend these camps to help with full-contact drills and scrimmages. High school football players are taught by some of the top college coaches and get the opportunity to be scouted by recruiters.
Jason Garrett, Offensive Coordinator for the Dallas Cowboys, had this to say about the program: "Contact Football Camp has enjoyed an excellent reputation over the years and I personally recommend their program. If you are serious about learning and improving your football skills, I strongly encourage you to enroll in this camp."
Location: Schools in California, Texas, Illinois, Pennsylvania and Massachusetts, including of San Diego and Forest College. Duration: 5 days (overnight or day camp options available) Cost: $400-$700
Quick Tips
Don't forget to factor in extra costs that may not be included in the camp fees. These costs may include transportation, meals, accommodations, etc.
There are often hundreds of athletes at a single camp, so try to establish a relationship with coaches and recruiters before you attend, and let them know when you'll be attending the camp. That way, they'll have you on their list of players to watch.
You don't have to be a senior in order to be scouted by recruiters. Even high school freshman can get noticed by recruiters if they have the talent and the motivation.
People Who Read This Article Also Read:
Sports and College Admissions
Club Sports in College
The Top 10 Most Historic College Sports Venues
Small College Sports Powerhouses
Advertisement
Visit Our Student Center

Get on track!
And find out everything you need to know about planning for college.
Advertisement