See All
Colleges >
How to Have a Last Hurrah With Friends Before College
How to Have a Last Hurrah With Friends Before College
Use these nine tips to take full advantage of your summer break before becoming a college freshman.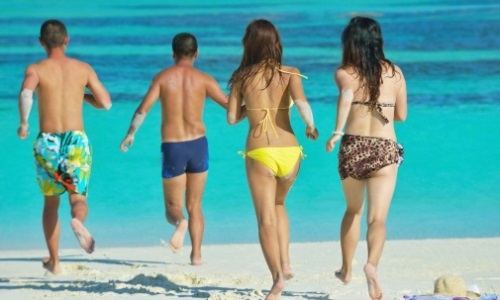 Photo: Thinkstock
Going away to college can be both exciting and scary -- on one hand, you're entering a new and important chapter of your life; on the other hand, you're leaving the home and friends that you know and love. To make the transition easier, plan a summer with friends that you'll never forget; that way, you'll have no regrets when you head off to college in the fall. Use these nine tips to help you say goodbye to your high school years in style.
Remember, just because you and your friends are heading off to college doesn't mean your bonds have to weaken.
1. Take a road trip.
Embarking on a road trip is a great way to bond with friends while discovering cool new places. If you're from the west coast, consider hitting California's coastal Highway 1; if you're from the south or east, check out Virginia and North Carolina's beautiful Blue Ridge Parkway. If neither of these options strikes your fancy, check out Forbes's list of Top Ten American Road Trips. Once you and your friends have decided on a route or destination, use a website like Roadtrippers.com to help you plan the perfect getaway.
2. Plan a stay-cation.
If you'd rather stay local than plan a road trip, organize a stay-cation (a vacation where you don't leave your hometown) with friends instead. Agree to clear your plans for at least three days and decide on group activities and adventures that everyone will enjoy. For the full effect, check into a local hotel and sit by the pool, watch movies and order room service. You'll hardly believe you're only a few minutes from home!
3. Form a book or movie club.
If you and your friends are big readers, form a book club; if you're more into action-packed thrillers or art films, create a movie club. Regardless of the medium you choose, follow this fun format: Every month, let one member choose the next book or movie, then meet up to discuss. Remember, you don't have to give up on the plan once summer comes to an end -- you can continue reading or watching and then "meet up" via free group video calls on Google (talk about a fun way to stay in touch!).
4. Take a tour of your hometown.
Dedicate a day to stopping at all your favorite local spots with friends. Choose restaurants, shops and outdoor attractions that you and your buds feel particularly nostalgic about. If you grew up in a city, play tourist for a day and book a bus or walking tour -- you might discover some cool new places and attractions that have been sitting under your nose this whole time.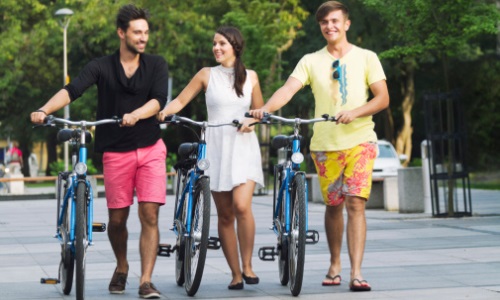 Photo: Thinkstock
5. Host a clothing swap.
It's a good idea to clean out your closet before heading off to college. To make this grueling task fun, host a clothing swap: Ask friends to fill a bag with clothes they no longer want, then decide on a time and place to check out each other's duds. Not only will you get rid of things you don't need, you'll also score some cool new stuff to take away with you to college.
6. Try something totally new.
College is all about experiencing new things, so why not get ahead of the game by tackling a new activity with your friends? Agree to take a sewing class, go bungee jumping or try Vietnamese food. Any activity that's new and exciting fits the bill!
7. Create a group playlist.
Put a fresh spin on the old mixed tape idea by creating a collaborative playlist on Spotify. This feature will allow you and your friends to add and listen to songs together, making for a great way to share new tunes as well as relive old memories.
8. Create Facebook groups, email chains and group text messages.
In order to prepare for going your separate ways, create Facebook groups, email chains and group text messages with your closest friends. Start chatting via these mediums now in order to get used to the new modes of communication -- doing so will make the transition easier once you all head off to school.
9. Throw a group going-away party.
When summer comes to end, throw a going-away party for you and all your college-bound friends. Make it a casual kickback or ramp up the fun by throwing a classic college-style toga party (a great way to celebrate the exciting new chapter in your lives!).
Remember, just because you and your friends are heading off to college doesn't mean your bonds have to weaken. If you plan an unforgettable summer and commit to staying in touch once fall rolls around, your friendships will do more than survive -- they'll thrive!
People Who Read This Article Also Read:
Summer Checklist for Incoming Freshmen
How to Prepare for High School Graduation
Use Summer School to Get Ahead With College Prep
How Much Does Culinary School Cost?
Advertisement
Visit Our Student Center

Get on track!
And find out everything you need to know about planning for college.
Advertisement