See All
Colleges >
3 Helpful College Search Resources
3 Helpful College Search Resources
From online tools to friends and family, there are a ton of college search resources available to students.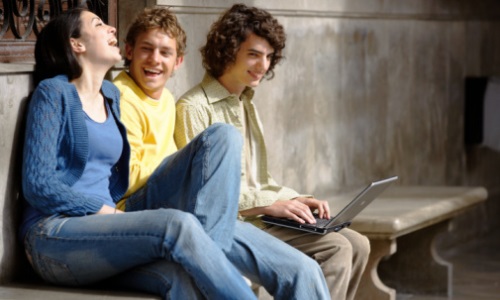 Photo: Thinkstock
Several factors go into selecting the right college. Ultimately, you'll want to find college matches that best fit your personal wants and needs. However, to better understand these needs, as well as what to expect from a particular career or college, outside resources are always beneficial.
Whether or not you have a clear idea of what career you would like to pursue, there are plenty of places and people to go to for aid in a college search. Read more to find out about the resources available to you.
Discussing your academic interests and degree programs with teachers is a good source of professional advice.
1. Seek Career and Education Advice From Friends and Family
Speaking to those closest to you is a great way to gain insight into potential degree programs and career paths:
Parents and other adults can offer advice on specific career paths, as well as what they found most enjoyable about their university.
Older siblings may have just gone through the college selection process and can offer firsthand tips on what helped them in their college search.
Friends, cousins or other family members currently enrolled in college might also be able to help you identify which parts of the college experience are most important to you (academic excellence, sports, frats, college size, online degrees, etc.).
2. Talk to Education Professionals to Find College Options
Outside input from education professionals can provide a wealth of insight into careers, majors and colleges. Discussing your academic interests and degree programs with teachers is a good source of professional advice. Teachers have years of experience in their fields and can help you determine if the majors you're considering would be right for you.
Also, your school's guidance counselor can guide you through the college process from start to finish. Counselors have broad knowledge of a number of universities, particularly those in the surrounding area, and can help you complete college applications, apply for financial aid, find scholarships and give you a realistic sense of which schools you're likely to be accepted into.
Additionally, visiting the campus of colleges you're considering is a great way to gauge the student life and overall vibe of a university. During your campus visit, schedule time for an interview with a college admissions officer to discuss your strengths and what the school can offer you.
3. Additional Resources for Your College Search: Fairs, the Internet, Brochures
College fairs, where schools come to your area to talk about their college programs, are another good way to speak directly to college representatives about their schools. College fairs take place in high schools, local colleges and other locations numerous times throughout the year. Talk to your guidance counselor to find out about college fairs in your area. When you go, bring your transcripts, general questions about each college and specific questions for the schools you're most interested in.
As you already know, the Internet offers a vast resource for those choosing a college, degree program or major. Visiting a college's website will give you up-to-date information about that college, but it can be hard to find the sites, they can be tough to navigate, and how do you know if there are great schools out there you're not aware of?
That's where Campus Explorer comes in, by offering a quick, easy, comprehensive way to search colleges along many dimensions. The Campus Explorer college search can help any student find 4-year colleges and universities, 2-year community colleges and career colleges and online colleges. You can search by college type, major, degree program, location, size and more.
Once you've found a college you like, you can also request admissions information like brochures and catalogs from them through Campus Explorer. In search results, just click the "Get Admissions Info" link, and if you're looking at a college's description page, complete the fields to request more admissions information directly from the school.


People Who Read This Article Also Read:
How to Start Your College Search
How Do I Find The Information I Need On These Huge College Websites?
How To Really Learn About A College
8 College Resources for Minority Students
The Pros and Cons of Using College Rankings
Is an Ivy League College for You?

Related Timeline Articles
Advertisement
Visit Our Student Center

Get on track!
And find out everything you need to know about planning for college.
Advertisement