See All
Colleges >
It's Sophomore Year: Is it Time To Worry About College?
It's Sophomore Year: Is it Time To Worry About College?
If you're a sophomore and you haven't given college much thought, it may be time for you to get serious about your college planning.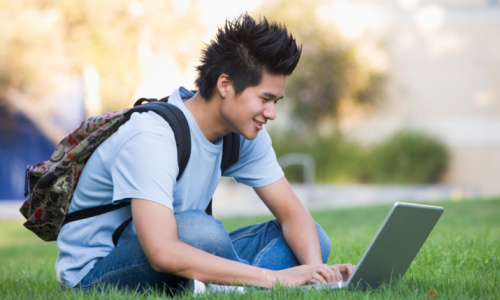 Photo: Thinkstock
It's your sophomore year of high school. There's no reason to be thinking about college yet, right? Wrong.
Your senior year is closer than you think. Before you know it you will be attending college visits, sending out applications, and waiting for that big acceptance package.
Taking an AP class prepares you for college life and may provide you with college credit too.
According to the National High School Center, 72% of high school sophomores plan on going to college. The problem is, many do not know what to do to prepare for the big leap into higher education.
Don't leave your college planning for the last minute. Start now to make the process easier later. To keep focused, you will want to make a sophomore year timeline and action plan.
Sophomore Year College Preparation
College admission departments look at a student's entire high school record – from freshman to senior year – to determine whether to accept her into a degree program.
A strong GPA and dedication to a few extracurricular activities throughout your high school experience will make you a desirable candidate for many colleges. If you haven't yet met with your guidance counselor, now is the time to make an appointment. Your guidance counselor is there to make sure you are on the right track with your college planning.
10th Grade Test Prep
Your PSAT does not count toward college admissions, but it will qualify you for National Merit Scholarships, and will also help you prepare for the big test – the SAT. The PSAT is administered every October, so students typically take the test in their sophomore or junior year.
Most students take the SAT in the fall or spring of their junior years, however you should begin studying for the test months in advance. You can use your PSAT results as a guideline for how much preparation you'll need for the SAT.
There are many studying resources for both the PSAT and SAT. You may choose to hire a tutor, take a prep class, purchase test prep books or a combination of both. Some high schools even offer SAT prep as part of a student's regular class schedule.
While you definitely shouldn't be in panic mode just yet, college should be on your mind. When planning out your sophomore year (and beyond), keep in mind that many decisions affect your high school transcripts. So, remember to stay focused, get involved, and don't forget to have fun.
It's Sophomore Year: Tips and Tactics
While it's far too early to start sending out college applications, there are a few steps you can take to help your chances of being accepted into your dream school. Here are a few tips to help beef up your transcripts:
Take a few Advanced Placement (AP) classes. Taking an AP class is a win-win. It prepares you for college life and may provide you with college credit too. Just make sure you are interested in the subject because an AP course is more rigorous than a high school-level course.
Join a sports team or get involved in a school club, or two. Maintaining consistent commitment to your extracurricular activities throughout college is key. Colleges are more impressed with someone who starred in the school play every year, than the student who participated in theater for a year, music for a few months and basketball for one season.
Enroll in a foreign language class. Students who can't get into AP courses can take a foreign language throughout high school to receive college credit or even test out of foreign language requirements in college.
Volunteer for a worthy cause. Colleges are attracted to a student who gives back to her community.
People Who Read This Article Also Read:
High School Sophomore Timeline and Checklist
Sophomore Year College Prep Schedule
High School Junior Timeline and Checklist
College Planning: When Should I Start?
Get a Jump Start: Prepare for College Before High School

Advertisement
Visit Our Student Center

Get on track!
And find out everything you need to know about planning for college.
Advertisement