See All
Colleges >
In Demand Therapy and Social Work Jobs
In Demand Therapy and Social Work Jobs
Check out the top social work and therapy jobs for 2012.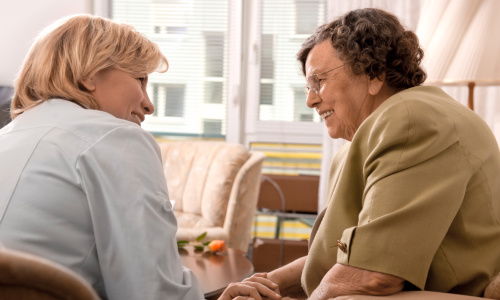 Photo: Thinkstock
By Adam Jazairi
In addition to being vital to our society, therapy and social work jobs comprise some of today's most in demand careers. Increased suicide rates have raised awareness of the importance of mental health, while an aging population requires additional assistance.
In addition to being vital to our society, therapy and social work jobs comprise some of today's most in demand careers.
If helping people is your passion, these therapy and social work jobs could be the perfect career for you. This list, compiled from Bureau of Labor Statistics data, will give you a sense of the different kinds of in demand jobs there are in the field, as well as the education path you'll have to take to pursue them.
What They Do: Marriage and family therapists help people cope with the challenges of life, particularly with regard to mental disorders and personal relationships.
Salary: The average annual salary for marriage and family therapists is about $45,700.
Demand: Marriage and family therapists are among the most in demand therapy jobs. Over the course of the next decade, the Bureau of Labor Statistics expects the profession to expand by more than 35%.
Prerequisites: You'll need to become licensed and earn a master's degree in order to becoming a practicing therapist.
What They Do: One of the most crucial social work jobs, substance abuse counselors help people recover from drug addiction and behavioral disorders.
Salary: On average, substance abuse counselors make around $38,000.
Demand: Like most social work jobs, this career is expected to grow substantially over the next ten years.
Prerequisites: Depending on the position, the minimum requirement could either be a high school diploma or a master's degree. The higher your level of education is, the better your prospects will be.
What They Do: Occupational therapy assistants help ill or disabled patients with daily activities. Their specific duties depend on the type of patients, as well as the therapist they work under.
Salary: In 2010, the median salary for occupational therapy assistants was approximately $51,000.
Demand: Occupational therapy assistants will face excellent job prospects over the next decade. The Bureau of Labor Statistics projects employment to grow by more than 40%, making this one of the most in demand jobs in therapy.
Prerequisites: In addition to an associate's degree, occupational therapists in many states must acquire a license.
What They Do: Simply put, social workers deliver assistance to those who need it. They work in schools, clinics and government institutions, helping families, school children, the mentally ill and the elderly.
Salary: Social work jobs yield an average salary of about $42,500.
Demand: The job outlook for social workers will benefit from the general health care boom. Gerontological social workers should have the most prospects.
Prerequisites: For clinical social work, you'll need a master's degree. Otherwise, a bachelor's degree should suffice for entry-level social work jobs.
What They Do: While marriage and family therapists focus on mental disorders, physical therapists focus on bodily injuries. Their clientele ranges from young athletes to elderly disabled people.
Salary: Though wages vary, the average annual salary is around $76,300 for physical therapists.
Demand: With an aging population needing physical care, demand for physical therapists is projected to be tremendously high.
Prerequisites: A doctoral degree and licensure are usually required.
Advertisement
Visit Our Student Center

Get on track!
And find out everything you need to know about planning for college.
Advertisement