See All
Colleges >
College Towns: Tallahassee, Florida
College Towns: Tallahassee, Florida
Learn more about Tallahassee, Florida - home of Florida State University.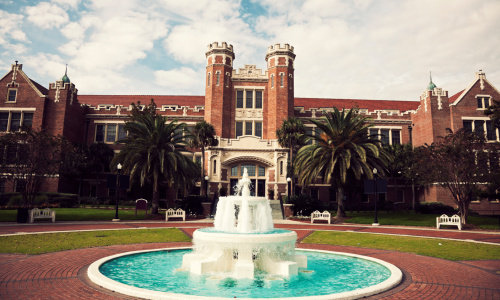 Photo: Thinkstock
The Town: Tallahassee, Florida
Located in the northwest region of the Florida panhandle, Tallahassee is Florida's capital and home to 181,000 residents. The city lies on the southern banks of the Red Hills, surrounded by Lake Jackson and Lake Lafayette. The Apalachicola National Forest is nearby.
Typical of the state of Florida, the weather is warm year-round, with short, mild winters. Unlike most of the state, however, the area does not face the same threat of hurricanes.
Doak Campbell Stadium is known for having one of the most festive atmospheres in college sports.
The oldest college in the state, Florida State University has a main campus and a southwest campus. Excelling in various fields of research, FSU houses the only national lab in the state, the Magnetic Field Lab.
The FSU athletic department is one of the best in the country. Nicknamed the Seminoles for the local Native American tribe that settled the area, multiple programs are perennial powerhouses.
Winning two national championships, the men's football team had at least 10 wins and finished in the top five of the Associated Press poll every year from 1987 to 2000. Men's baseball has made 20 trips to the College World Series, and the men's track and field program is the reigning outdoor national champions.
What to Do
Student activity begins with football games in the fall. Doak Campbell Stadium is known for having one of the most festive atmospheres in college sports. Their mascot is a student trained in native Seminole customs by actual tribe members.
FSU is one of only two colleges that can boast its own three-ring circus. With no animal acts, FSU students comprise 100 percent of the performance, creating their own costumes, designing their own sets and operating all of the equipment. The troupe performs on campus and has at least one international performance each year.
Where to Eat
Barnacle Bill's is everything you'd want in a college eatery: a dive-like atmosphere, friendly waiters and lots of great food. Treat yourself to a bucket of steamed or raw oysters dropped off fresh by local fisherman.
If you've got the late-night munchies, stop by Park Avenue Diner for a midnight milkshake.
Did You Know?
Actor Burt Reynolds is a Florida State University alum. He attended FSU on a football scholarship, but a serious knee injury and a car crash in his freshman year ended his hopes for a pro football career.


People Who Read This Article Also Read:
The Top 40 College Towns in the US
College Towns: Boulder, Colorado
College Towns: Charlottesville, Virginia
College Towns: Grand Forks, North Dakota
College Towns: Gainesville, Florida
College Towns: Tucson, Arizona
College Towns: Eugene, Oregon

Advertisement
Visit Our Student Center

Get on track!
And find out everything you need to know about planning for college.
Advertisement