See All
Colleges >
College Towns: Grand Forks, North Dakota
College Towns: Grand Forks, North Dakota
Learn more about Grand Forks, North Dakota - Home of the University of North Dakota.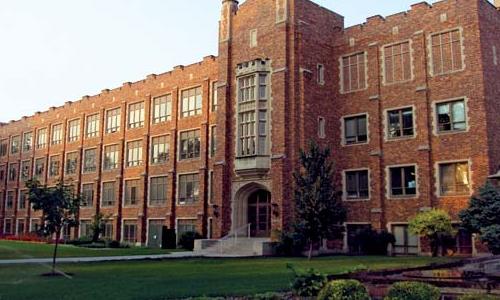 The Town: Grand Forks, North Dakota
The third-largest city in North Dakota with a population of 52,000, Grand Fork lies on the western banks of the Red River. Along with East Grand Forks, Minnesota, it comprises the Greater Grand Forks area, also known as the Grand Cities.
North Dakota lies near the Canadian border, so expect cold, arctic winters with heavy snowfall. Summers are very hot and humid with regular thunderstorms. Because of its proximity to a river basin, the area is prone to regular flooding. The area suffered a devastating flood in 1997.
With 11,000 undergraduate and 2,500 graduate students, UND is relatively small in comparison to most public universities. It is especially renowned for its School of Aerospace Sciences as well as the Environmental and Human Nutrition Research Center.
Each year, the school hosts the UND Writer's Conference, bringing in some of the most acclaimed writers from around the globe. Past speakers have included Truman Capote and Tennessee Williams.
What to Do
UND is one of the few schools in which hockey is the biggest sport, and for good reason. The Fighting Sioux men's hockey team has been to the Frozen Four 19 times, winning the NCAA Division I championship seven times. A member of the WCHA, which is largely regarded as the most competitive college hockey conference, UND has won 15 regular season titles, more than any other school.
It's easy to get together with friends (or make some new ones) and enjoy a little healthy activity or recreational competition at the Wellness Center, an athletic facility with multiple playing courts, weight rooms and other exercise facilities. About 80 percent of students use the Wellness Center in some capacity.
If you're looking for a bit of culture, the North Dakota Museum of Art is located on the UND campus. It attracts some of the best national exhibits touring the country at any given time.
Where to Eat and Drink
The Toasted Frog is a charming restaurant and lounge located in the heart of downtown Grand Forks. There's something for everyone on the menu, including traditional American favorites, pizza, pasta and seafood. Executive Chef Scott Franz is a lifelong Grand Forks resident.
Did You Know?
The University was founded six years before North Dakota officially became a state.


People Who Read This Article Also Read:
The Top 40 College Towns in the US
College Towns: Boulder, Colorado
College Towns: Charlottesville, Virginia
College Towns: Tallahassee, Florida
College Towns: Gainesville, Florida
College Towns: Tucson, Arizona
College Towns: Eugene, Oregon

Advertisement
Visit Our Student Center

Get on track!
And find out everything you need to know about planning for college.
Advertisement