See All
Colleges >
Colleges With the Best Weather
Colleges With the Best Weather
You can get a great education and enjoy great weather at the same time. Find out which colleges are known for great weather.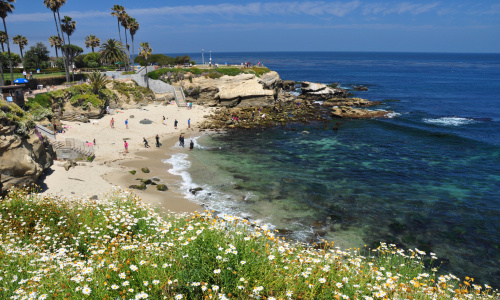 Photo: Thinkstock
Some students can thrive in places like Chicago, Minneapolis, or Seattle, but most of us need more sun than clouds.
Luckily, there are plenty of great of great education options if you're looking to escape the icy grasp of the Northeast and the rainy gloom of the Northwest.
Going to a school with good weather can be great, but it's definitely for students with self-control.
Here are a few of the warmest, sunniest, balmiest schools in the US.
San Diego State University (San Diego, California)
With an average temperature of 65° F and a 70% chance of sunny weather year-round, San Diego isn't a bad choice for those looking to get a tan along with their diploma. In the summertime, San Diego State students enjoy averages in the mid-to-high 70s with barely any rain. It's a sun addict's dream!
Florida Atlantic University (Boca Raton, Florida)
If 65 degrees doesn't sound warm enough for you, check out Florida Atlantic University in Boca Raton. FAU boasts an average annual temperature of 75°, which climbs up to the low 80s during the summer months. The downside? Boca Raton might get a little too hot for some, with over 65 days a year at 90° or more.
University of Miami (Miami, Florida)
In addition to a vibrant cultural scene and great nightlife, Miami is also home to a bit of the most pleasant weather in the country. Students at the University of Miami can look forward to plenty of sunny days, with similar temperatures as Florida Atlantic. It's just as well; you wouldn't want to let those great beaches go to waste!
Pepperdine University (Malibu, California)
Is there anything better than a 20-mile strip of Pacific coastline? How about going to school there? Located in gorgeous Malibu, Pepperdine is easily among one of the most beautiful campuses in the United States. With balmy weather even in the winter months, you certainly don't have to worry about the cloudy day blues in this California paradise.
Honolulu Community College (Honolulu, Hawaii)
You certainly don't need us to tell you that Hawaii has some of the best weather in the world. The only meteorological issue that Honolulu Community College students face is rain, but that's a small price to pay for studying on an island in the Pacific.
The Downside of Being Outside
It sounds ridiculous, but it's true: great weather can be dangerous. Consider this: if it's 77° and beautiful outside, and you have a paper to write, are you going to sit in the library and study, or go out for a swim with your friends?
Going to a school with good weather can be great, but it's definitely for students with self-control. Before you enroll at Pepperdine or FAU, make sure that you'll be able to get some work done.


People Who Read This Article Also Read:
Colleges With the Worst Weather
Skateboarding in College: The Best Schools to Ride a Rail
Best Colleges for Hiking
Best Colleges for Mountain Biking
Best Colleges for Hiking
Best Surf Colleges
Best Colleges for Skiing and Snowboarding
Best Colleges for Hunting and Riflery

Advertisement
Visit Our Student Center

Get on track!
And find out everything you need to know about planning for college.
Advertisement