See All
Colleges >
College Towns: Cambridge, Massachusetts
College Towns: Cambridge, Massachusetts
Learn more about Cambridge, Massachusetts – home of Harvard University and MIT.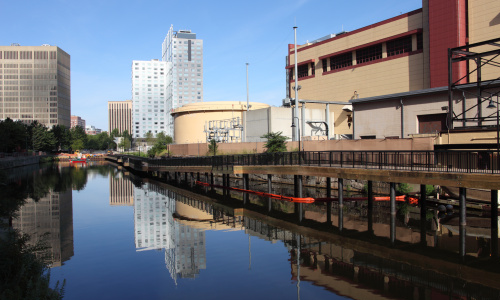 Photo: Thinkstock
The Town: Cambridge, Massachusetts
Named after the prestigious university in England, Cambridge is directly northwest of Boston and part of the metropolitan area. With its proximity to Boston, Cambridge barely made our list. But its unique character and the huge influence of local universities on the character of the city helped Cambridge slide into our list.
Two of the most academically renowned universities in the United States are located in Cambridge: Harvard and MIT.
Home to more than 105,000 residents, it is known as the "city of squares," as various neighborhoods each provides their own local flavor to make Cambridge such an attractive place to live. They include:
Kendall Square, the east end of the Massachusetts Institute of Technology (MIT) campus and a center for tech companies.
Central Square, home to many varieties of ethnic restaurants
Harvard Square, site of the Harvard University campus
Inman Square, located in mid-town, a funky street scene full of artists and musicians
Lechmere Square, location of the Cambridge Side Galleria Shopping Mall
The Schools: Harvard University and MIT
Two of the most academically renowned universities in the United States are located in Cambridge: Harvard and MIT.
A member of the Ivy League, Harvard was rated the No. 1 overall university by U.S. News & World Report in 2010. Between alumni and faculty, the school boasts 75 Nobel Prize winners. It's one of the few institutions with more graduate than undergraduate students, with only 7,000 undergrad and 14,000 graduate enrollees.
MIT emphasizes research, engineering, business, science and technology. Known for intense, rigorous coursework, the school has produced 24 Nobel Prize winners.
What to Do
Both schools have their own outdoor areas, the Harvard yard and the MIT Great Lawn, as well as a co-operative bookstore. On weekends, many students will venture into downtown Boston for food and nightlife.
Between the fall and spring semesters, MIT offers an Independent Activities Period. The school hosts lectures, classes and demonstrations that are free to the student body. Best of all, you won't have to worry about grades and homework.
Although it is not known as an athletic powerhouse, Harvard's game with Yale is a great rivalry and always attracts huge crowds from both schools. If bars aren't your thing, you can check out a musical put on by Harvard's Hasty Pudding Theatricals.
Where to Eat and Drink
The greater Boston area is known for its Irish heritage and history, and you can soak up culture at the Burren. An Irish Pub located in Davis Square, it features traditional Irish music, dancing classes, trivia nights, authentic Irish breakfasts and of course, plenty of Guinness.
Did You Know?
President Barack Obama received his JD from Harvard Law School and President George Bush received his MBA from Harvard Business School.


People Who Read This Article Also Read:
The Top 40 College Towns in the US
College Towns: Fayetteville, Arkansas
College Towns: Lexington, Kentucky
College Towns: Charlottesville, Virginia
College Towns: Grand Forks, North Dakota
College Towns: Eugene, Oregon
College Towns: Gainesville, Florida
College Towns: Tucson, Arizona

Advertisement
Visit Our Student Center

Get on track!
And find out everything you need to know about planning for college.
Advertisement