See All
Colleges >
Chinese International Students
Chinese International Students
Are you a Chinese student thinking about attending college in the US? Read this to learn about recruiting, popular colleges for Chinese internationals, and the admissions process.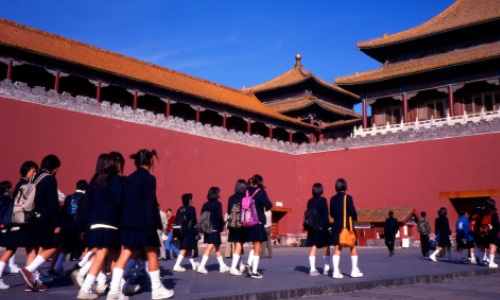 Photo: Thinkstock
Fact: The Chinese higher education system cannot support the huge number of Chinese students who apply to college.
Less than a third of Chinese students who applied to post-secondary institutions in China last year were admitted. More students from China are deciding to study abroad, and the United States is their number one target country.
Each college or university will have its own application process, so you should check with your prospective institutions to find out what they require.
Attending college in the US as a foreign student can seem overwhelming. But if you are considering this journey, you are probably well aware that the benefits outweigh the drawbacks. You will be immersed in a completely different culture with customs and traditions different from your own and a way of teaching that emphasizes discussion over rote memorization.
Bottom line: You need to be prepared.
Chinese International Students in America
For years, the Chinese student population in America's higher education system has been growing.
The 2010 Open Doors document published by the Institute of International Education (IIE) reports that in the 2009-2010 academic year China sent more students overseas than any other country for the first time in the history of higher education.
Of these students, 127,628 studied abroad in America. This is a striking 30 percent growth over the past year.
While these are positive numbers, keep in mind that it also means stronger competition for you when applying to colleges in America.
Where are these students going? The states with the highest concentration of international students tend to have large Chinese populations as well. These states include:
California
New York
Texas
Massachusetts
Illinois
Colleges and Chinese Students
Schools that specially target international students include Mount Holyoke, a college for women in Massachusetts; Drake University in Iowa, where the Chinese population quadrupled in the past year; Westminster College in Missouri; and University of California, Berkeley.
Some schools actively recruit Chinese students in China while they are still of high school age.
In 2009, the University of Southern California (USC) opened an office in Shanghai to aid in recruitment. USC has a thriving Chinese population and increased its enrollment of freshman from China by 250 percent between 2005 and 2010. Many Chinese international students find the transition from China to college to be an easier one at schools like USC that already have a substantial Chinese population.
Westminster College, which was recently visited by Chinese President Hu Jintao, has two exchange programs through its College of Business: The Nankai University exchange program for economics students and the Donghau University exchange program for MBA students. In both programs, Chinese students complete their last two years of study at Westminster College.
International Student Application Process
Each college or university will have its own application process, so you should check with your prospective institutions to find out what they require.
Generally, you will need to complete the Scholastic Aptitude Test (SAT), which is required by most schools for enrollment. This test is similar to China's Gao Kao test in the math section, but different in the verbal and writing sections, which require a strong comprehension of the English language.
Colleges have different SAT score requirements, but the test should be taken very seriously. You might even consider taking an SAT preparatory course. The Princeton Review offers SAT prep courses and has offices in China.
All international students at colleges are required to take the TOEFL. However, there are some colleges and universities that have begun to offer conditional acceptance programs for students with lower-than-average scores.
At Drake University, Chinese students are enrolled in a variety of programs including actuarial sciences, accounting, international business, business management, marketing, graphic design and sociology.
After you are accepted you will need to obtain a student visa, which allows you to live in the US for the duration of your studies.
Related College Planning for International Students Articles

How to Apply to College as an International Student
Student Visas
International Exchange Programs
Prospects for International Students After Graduation
African International Students
EU International Students
Indian International Students
Middle Eastern International Students

See All College Planning in High School Articles
Advertisement
Visit Our Student Center

Get on track!
And find out everything you need to know about planning for college.
Advertisement