See All
Colleges >
Top 10 Tips on Applying to an MBA Program
Top 10 Tips on Applying to an MBA Program
Find out how to make your MBA application shine.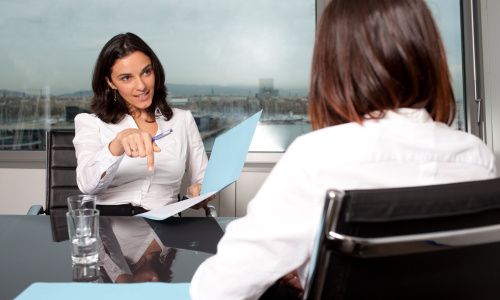 Photo: Thinkstock
All business schools graduate students with a MBA, but the structure, format and outcome of each program differs depending on the goal of the school. Despite this, many business schools require similar information and traits from their applicants.
Most MBA programs require students to have at least three years of work experience.
With today's competitive business market, many people are deciding to continue their education by pursuing a MBA. Some people are looking to earn a promotion, while others wish to switch careers entirely. Whatever your goal is, you can't get your master's degree unless you are accepted to an MBA program. Here are 10 tips to help in applying to an MBA program:
Apply early. This can benefit you for several reasons. Applying to a MBA program during the first few months that it is accepting applications demonstrates to the admissions committee that you are serious about going to business school. Your chances of being admitted are also greater because there are fewer candidates to compete against.
Be neat and concise. You may want to practice filling out the application form a few times before completing the one you are going to turn in. Admissions committees want to admit candidates who have the potential to thrive in a professional business career. A form riddled with spelling or grammar mistakes is likely to be pushed to the bottom of the pile. If you have messy handwriting, fill it out on the computer.
Give your resume a facelift. Most business schools will ask you to submit a resume or CV with your application. Your resume should be professional and list your experience and accomplishments without embellishments. You might want to search the internet for samples if you are unsure of what a professional resume should look like. Follow academic standards if you need to submit a CV.
Any experience is good experience. Most MBA programs require students to have at least three years of work experience. However, some programs are more lenient with this requirement. If you have less than three years of experience, you should make sure your personal statement highlights how earning your MBA connects to the work experience you have already completed.
Make your references count. You should choose people to write your letters of recommendation who know you well like professors and current or past employees. People who can give specific examples of your work habits and accomplishments are the best candidates.
Strive for high GMAT scores. Take the time to start studying a few months before you plan to take the test. Students who need additional help studying should consider taking a prep course.
Ace your interview. Not all business schools require an interview. In fact, some allow students the option to choose. However, if you are requested to come in for an interview, that means the school is seriously considering admitting you to the school. They already like you, so this is not a time to stress out. Enjoy yourself and let your personality shine.
Tell a good story. We don't mean lie on your application. What this means is that all of your application materials should form a cohesive story about your academic and professional past, leading to why you want to attend business school and how it is going to help you achieve your career goals. All of this information should be obvious to the admissions committee when reviewing your application.
A good fit. If you've been researching applying to business school for a while, you're probably sick of hearing this phrase. However, this really is what admissions committees look for when considering applicants. To demonstrate that you are a good fit for the MBA program, perform research on the school, program and alumni. This will help you understand how the program functions so that you can describe why you would thrive in that environment.
Apply to many. Business school admissions are competitive, especially today when so many people are looking to boost their resume with a MBA. While this is not necessarily a tip to make your application stand out, it can increase your prospects of getting into an MBA program.
People Who Read This Article Also Read:
Types of MBA Programs
MBA: Is It For Me?
Should I Earn a Masters Degree or an MBA?
Is an Online MBA for me?
Top 10 Online MBA Schools
How Hard Are MBA Programs?
Is Medical School in Your Future?
PhD Programs: Overview

Advertisement
Visit Our Student Center

Get on track!
And find out everything you need to know about planning for college.
Advertisement