ROTC in College
Learn how ROTC can benefit college students - from offering scholarships to developing leadership skills.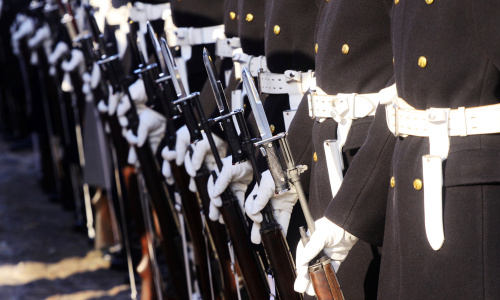 Photo: Thinkstock
The Reserve Officers Training Corps (ROTC) is a military officer training program for college students. Training is offered as an elective that prepares graduates for leadership careers within the armed forces. The Army, Navy and Air Force each have their own programs.
There are numerous benefits to joining a college ROTC program. You'll gain leadership skills and in many cases can earn scholarships and financial aid.
ROTC differs from enlisting in the military in several ways.
If you attend a smaller school, ROTC might not be offered. However, the military designates certain universities to be hubs for entire regions. For example, Canisius College in New York is the center for all colleges in the surrounding area, including the University of Buffalo, Hilbert College and Erie Community College.
ROTC vs. Joining the Army: What's the Difference?
ROTC differs from enlisting in the military in several ways. While you will be exposed to some training, you won't have to spend time at "boot camp" in any form.
Your training and education involves one course per semester. Time will be split between classroom work and field training. You'll still be able to participate in all the activities you want to and have plenty of time to hang out with your friends and lead a "normal" college life. It is not a 24/7 commitment.
You might not be obligated to any military service. The first two years of college will be spent in the Basic Course, which does not require you to spend any time in the services after graduation. However, if you decide to continue after this or receive scholarships, you must spend time as a military officer.
Types of ROTC Classes
ROTC courses are divided into three categories, depending on when you join and where you are with your college career.
ARMY ROTC Basic Course. As previously mentioned, these are the electives you take in your first two years. You'll have to take one class or lab in which you learn the fundamentals of military leadership. No commitment is required at this point post-graduation.
ARMY ROTC Advanced Course. Continuing with ROTC as an upperclassman requires you to serve as an Officer after you graduate. In addition to a class or lab each semester, you will be obligated to take a summer leadership course.
Leader's Training Course. Don't think you've missed your opportunity if you don't join as a freshman. The Leader's Training Course is designed to get students who have joined as juniors up to speed.
While you will be exposed to field training, you'll also have to complete coursework just like any other college class. At UCLA, the department of military science works with the ROTC as well as the school's social sciences department to teach students about military history, military law and other areas of military academia.
Scholarships
Financial aid through ROTC programs is typically reserved for students who are sophomores or older. At the University of Maryland, you can receive full tuition or free room and board as well as stipends for books and spending money. The requirements are largely academic, including a 2.5 GPA and a minimum SAT/ACT score. But you'll also have to pass a physical fitness test and agree to commission after graduation.
Remember, your obligations as an officer will be very different than those who go straight to military service. Talk to your campus representatives about what will be expected of you after college to ensure that this decision is right for you.
Read more about scholarships for military students.


People Who Read This Article Also Read:
Dance Groups and Activities on Campus
Student Organizations: An Overview
Honor Societies on Campus
Environmental Groups on Campus
Student Religion: Religious Groups on Campus
The College Academic Calendar
Campus Radio: Is the Internet Killing College Radio Stations?
College Clubs for Filmmakers and Movie Buffs

Advertisement
Visit Our Student Center

Get on track!
And find out everything you need to know about planning for college.
Advertisement