See All
Colleges >
6 Best College Brew Towns
6 Best College Brew Towns
Check out college towns with the best (and most!) breweries in the U.S.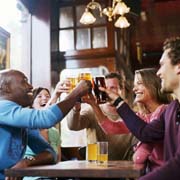 When considering where to go to college, a town's beer culture should be just as heavily weighed as its safety, quality of life and the amount of food joints open past two in the morning. This is serious business, guys, so pay attention to the following list of college brew towns – we can't promise there won't be a test at the end.
1. San Diego, CA
Brew Score: 3 Cheers
Portland has the most breweries of any city in the world (more than 50!), but don't be fooled into thinking this is a "quantity over quality" situation.
The Details: As if the stupidly perfect weather and postcard-worthy views weren't enough to convince you of San Diego's awesomeness, the county also boasts over 30 breweries. It's especially known for housing the most important producers of the West Coast Style IPA, a type of beer so bitter and hoppy that it may bring you to tears.
On Tap: Standout brews include the Alesmith, Stone and Ballast Point IPAs, all of which have won multiple awards worldwide. San Diego seems like a pretty terrible place to live, huh?
Colleges: If San Diego interests you, check out UC San Diego, University of San Diego, San Diego State University and these other schools.
2. Portland, OR
Brew Score: 3 Cheers
The Details: Portland has the most breweries of any city in the world (more than 50!), but don't be fooled into thinking this is a "quantity over quality" situation. Hops farms in the nearby Willamette valley mean that brewers get their hops fresh, making for some seriously quality beers.
On Tap: Popular breweries include Hopworks (which has a nearby bike bar with 75 bike parking spaces and a bike-friendly take-out menu), Rogue (where brews have awesome names like "Dead Guy" and "Mom Hefeweizen") and the family-owned Hair of the Dog (known for using Kentucky bourbon barrels for brewing and vegetables and flowers for ingredients.) Sounds like Portland's full of beer-soaked surprises (which happen to be our favorite kind!)
Colleges: Sound good? Find out more about University of Portland, Lewis and Clarke College, Reed College and other schools nearby.
3. Berkeley, CA
Brew Score: 2 Cheers
The Details: This well-known college town gets major brew points for being located in California's Bay Area and next door to San Francisco, both of which are major beer-making territories. Oh, and if all that beer ever starts to gets boring (unlikely, we know), the nearby Napa Valley is one of the world's most famous wine regions.
On Tap: Standout spots include San Francisco's Anchor (known for its historic Anchor Steam) and 21st Amendment (known for its unique canned beers), Petaluma's nationally renowned Lagunitas, and Berkeley's own Pyramid (popular enough to also have four other branches in the Northwest.)
Colleges: There are a few options like University of California - Berkeley, Berkeley City College and more in nearby towns.
4. Asheville, NC
Brew Score: 2 Cheers
The Details: We know what you're thinking: huh?! Believe it or not, this small town is quickly becoming a staple in the American beer scene – its 11 breweries make up for the highest amount per capita in the country. It seems there's no bad time to visit, either, as there are plenty of beer-centric events year-round. Oh, and if you do head down to Asheville, plan on finding beer in unexpected places, like mustards, shampoos, ice creams, and soaps. (Again, huh?!)
On Tap: Recommended brews include the Wicked Weed Freak Double IPA, the Green Man Porter, and the Wedge Golem.
Colleges: Schools like University of North Carolina, AB Tech and or these colleges could be the ticket.
5. Denver, CO
Brew Score: 3 Cheers
The Details: Colorado comes fourth in the list of states with the most breweries per capita, and the area between Denver, Fort Collins, and Boulder is referred to as the Denver Beer Triangle or, alternatively, the "Napa Valley of Beer." Denver also annually hosts the Great American Beer Festival, which is the largest festival of its kind in the country. With skiing, hiking and good beer, this city will definitely put hair on your chest.
On Tap: Denver's most notable breweries include Coors, the largest single brewery in the world, Great Divide, which has received multiple awards for its exceptional brewing processes and Rock Bottom, which produces the highest volume of beer of any restaurant brewery.
Colleges: There are many schools like University of Colorado, University of Denver and other options like these.
6. Boston, MA
Brew Score: 2 Cheers
The Details: With all the colleges Boston houses, it comes as no surprise that Bostonians drinks the most beer per capita of any city in the country. The city's brewery tours have become a sort of right of passage for barely-legal co-eds when they finally turn 21. Oh, and there's a bar downtown called Beantown Pub where you can drink a Sam Adams while looking at Sam Adam's grave. What else do you need to know? Start drinkin'!
On Tap: Boston's most notable brews come from Boston Beer Company (producer of Sam Adams, the number one selling craft beer in the country), and Harpoon (known for its near-perfect IPA.)
Colleges: There are many colleges in the Boston area, including Boston University, Northeastern University, Emerson College and more.
Now that you're an expert on the best college brew towns, there's only one question left to consider: should you major in beer? Hey, some schools have that option, it's called "Fermentation Science." Fancy.
People Who Read This Article Also Read:
10 Best Colleges for Dating
Best Colleges for Tailgating
College Bars and Beer Festivals: Student Drinking on Campus
Best Colleges for Hiking
Quick Search: Find the College that's Right for You!
Advertisement
Visit Our Student Center

Get on track!
And find out everything you need to know about planning for college.
Advertisement