See All
Colleges >
How to Stay Focused at a Party School
How to Stay Focused at a Party School
Use these five tips to stay on your game in a party-heavy environment.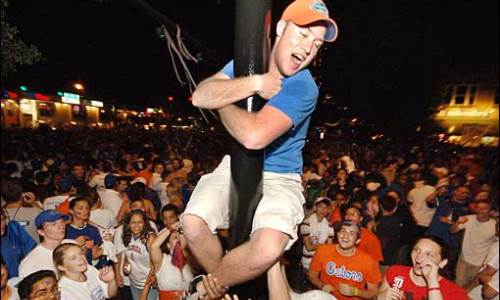 Attending a party school doesn't mean you have to slack off on your schoolwork, especially since many of them have a lot to offer students who want to get ahead. Take the following five steps in order to make sure your grades stay up and your future remains bright.
Now that you know how to navigate the environment at your new party school, you can arrive at college in the fall feeling confident and in control of your future.
1. Make friends that have similar priorities.
It may sound simple, but the best way to avoid partying too much is to avoid people who party too much. In order to stay on a track that you feel good about, make friends who want to have a similar college experience as you do. If you're looking to strike a balance between partying and studying, hang out with classmates who have the same goal in mind; if you're aiming to avoid parties all together, reach out to people who like to spend their weekends doing other activities – perhaps sports or outdoor recreation. Finding the right circle of people will help you stay grounded and ensure that you focus on what's really important to you.
2. Schedule and commit to specific study sessions.
At big party schools, students usually have the opportunity to socialize every night. While doing so might be fun, it will inevitably take a toll on your academic standing. In order to avoid the temptation of choosing a party over schoolwork, schedule specific times throughout the week to sit down and study. In order to hold yourself accountable, join or form a study group in order to ensure that you show up and get work done.
3. Make an effort to drink responsibly.
It's no secret that the culture at large party schools promotes binge drinking on a consistent basis. Unfortunately, choosing to get drunk all the time will throw you into an unhealthy pattern of making bad decisions, not feeling well and shirking your responsibilities. In order to socialize without overdoing it, drink a glass of water after every alcoholic beverage you consume. Most importantly, master the art of going home when you've had enough -- this will ensure that you're able to be productive and hangover-free the following day.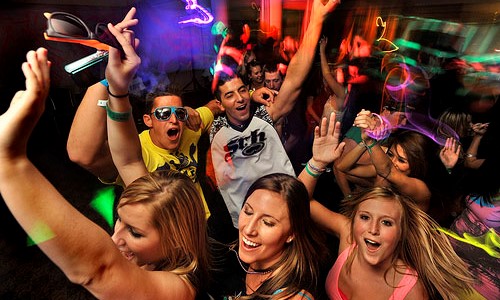 4. Be deliberate about avoiding drugs.
Doing any amount of drugs is a risky choice when it comes to maintaining your good health and academic standing. Remember, just because drugs are around and available doesn't mean you have to partake. If you're at a party where people are doing drugs, simply decline to participate; if you find yourself getting tempted or peer-pressured, move to a different party where drugs aren't the focus. And again, the best way to avoid drugs is to avoid being friends with people who use them -- having friends who socialize without drugs will make it much easier to resist experimentation.
5. Don't be afraid to ask for help.
If you do find yourself caught in a pattern of excessive alcohol and/or drug use, don't be afraid to seek help in order to get healthy. Most schools offer counseling and health services to help students make healthy choices. You can also seek out Alcoholics Anonymous or Narcotics Anonymous meetings in or around your college town in order to get support from people with similar struggles – you may even run into a classmate there and find support in each other.
Now that you know how to navigate the environment at your new party school, you can arrive at college in the fall feeling confident and in control of your future.
People Who Read This Article Also Read:
Party Schools: Myth vs. Reality
Drinking in College: Do You Want a Party School or a Dry School?
How to Survive Your First College Party
On-Campus Housing and Dorm Rules
Advertisement
Visit Our Student Center

Get on track!
And find out everything you need to know about planning for college.
Advertisement