See All
Colleges >
Renting, Buying, and Selling Your College Textbooks
Renting, Buying, and Selling Your College Textbooks
Explore different strategies that will help you save money while still giving you access to the necessary textbooks for college.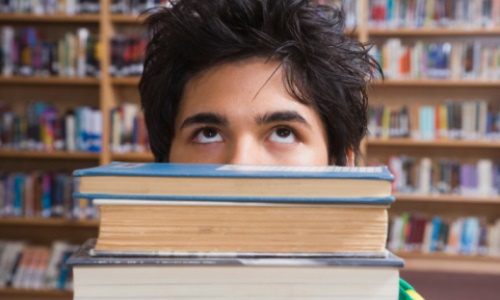 Photo: Thinkstock
There's no need to tell students that college textbooks are expensive.
Every semester, students can easily spend $1,000 or more, and for many years textbook prices have increased faster than the rise of inflation.
Still, there are many ways to be smart and thrifty when purchasing your textbooks.
Buy Textbooks Online
Before you spend money at the campus bookstore, consider buying textbooks online. Sites such as Amazon, TextbookRush.com, and even Ebay can offer a wide variety of textbooks at much cheaper prices than you'll find on campus.
This is a great way to buy college textbooks. Just remember to find a list of the textbooks you need for class early because online shipping can take weeks. Make sure to check the edition of the books you need.
Sell Your Textbooks With Textbook Buyback
If you have to buy from the campus bookstore, make sure to check out your college's textbook buyback policy. Often, if you keep your books in good condition, you can sell your textbooks back to the school. Depending on the school, condition of the book, and title, you could earn 50 percent back on your purchase. That's a nice chunk of change to have in your pocket at the end of the semester.
Borrow or Buy Textbooks From Friends
If you have a friend who already took the class you are about to take, check with her to see if she still has it. She might even let you borrow it instead of paying for it.
Likewise, check around for other random college students. If a guy isn't able to sell his book back to the bookstore, he might be looking for someone to buy it from him. Who better than another college student about to take the class?
Online and Digital Textbooks
Check to see if your school offers classes that have digital textbooks. The California State University system, for example, just signed a three-year deal with a digital textbook supplier to replace paper textbooks with e-books for certain classes. These books are usually much cheaper because of low costs for print, publication and distribution.
Just Say 'No' to College Textbooks
Sometimes the textbooks are supplemental texts or the teacher doesn't use them. Sometimes you can get away with simply not buying the books at all and working hard on the homework or using online sources. Even if certain books are required, check to see if some are optional. If they are, figure out if it's worth it to not buy these textbooks.
People Who Read This Article Also Read:
Digital and Online Textbooks
What is a Freshman Seminar?
Taking Notes in College
How to Write College Papers

Quick Search: Find the College that's Right for You!
Advertisement
Visit Our Student Center

Get on track!
And find out everything you need to know about planning for college.
Advertisement