See All
Colleges >
College Towns: Lincoln, Nebraska
College Towns: Lincoln, Nebraska
Learn more about Lincoln, Nebraska -- Home of the University of Nebraska.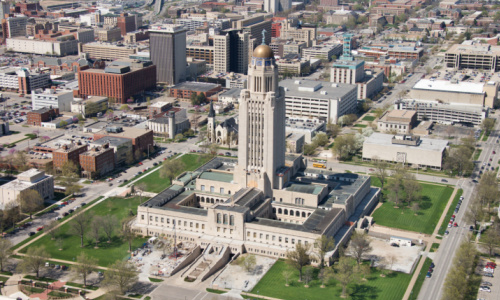 Photo: Thinkstock
The Town: Lincoln, Nebraska
The Nebraska capital and the second-largest largest city with a population of 248,000, Lincoln is a day's driving distance from Chicago, Minneapolis, Des Moines, Kansas City, Denver and Saint Louis. Thunderstorms and the occasional tornado mark humid summers, while winters stay cold with a moderate to mild amount of snowfall.
Lincoln is annually rated as one of the best college towns in large part because of its football team.
The University of Nebraska is the state's flagship university. Agricultural research is one of the renowned areas of study at the school, as many programs are funded by the US Department of Agriculture. It also houses a state-of-the art robotics laboratory as well as groundbreaking digital archives for the English department.
In 2010, the university purchased 250 additional acres of land and will begin construction on an $800 million campus expansion/renovation.
What To Do
Lincoln is annually rated as one of the best college towns in large part because of its football team. Winning five championships in its history (1970, 1971, 1994, 1995, 1997), every home game at Memorial Stadium has been sold out since 1962.
Unlike some programs, the crowd is known for its great sportsmanship, even in losses. Saturdays in the fall turn into a city-wide event in which students and residents tailgate before and celebrate after football games. 2011 will be uncharted territory for the Cornhuskers, as they will be playing in the Big 10 Conference for the first year.
During the rest of the year, head to downtown Lincoln, where you'll find movie theaters, clothing shops, ice cream parlors and bars. As a city of nearly a quarter-million people, Lincoln has a healthy mix of students and families.
Where to Eat and Drink
Built under a viaduct, Crawdaddy's is a typical college dive with a not-so-typical menu. The giant menu and giant portions feature a little bit of everything, indulging traditional barbeque, Tex-Mex, and Cajun food. Stop by on Sundays for 25-cent tacos!
Did You Know?
One of the emergency landing locations for NASA space shuttles is the Lincoln Municipal Airport.


People Who Read This Article Also Read:
The Top 40 College Towns in the US
College Towns: Ames, Iowa
College Towns: Urbana-Champaign, Illinois
College Towns: Corvallis, Oregon
College Towns: Bloomington, Indiana
College Towns: Logan, Utah
College Towns: Athens, Georgia
College Towns: Chapel Hill, North Carolina

Advertisement
Visit Our Student Center

Get on track!
And find out everything you need to know about planning for college.
Advertisement