See All
Colleges >
Communicating With Overly Involved Parents
Communicating With Overly Involved Parents
College counselors can help overzealous parents ease up using these tactful strategies.
Photo: Thinkstock
As a college counselor, there are a few faces you'll get to know all too well over the course of any given school year: those of the overly ambitious students and the overly involved parents. These individuals will come to you on a regular basis with anxiety or stress concerning the college admissions process. When it comes to eager parents, that sometimes involves putting their own desires and goals above those of their children. Use these helpful tactics to ease these parents' minds and limit their anxiety.
While working with an overly involved parent can be difficult, it's important to remember that their children are also lucky to have parents who care so much about their future and success.
Put Yourself in Their Shoes
It's easy to be annoyed by overly involved parents. Their constant questions or need to control various aspects of their child's life can be frustrating. Before you act, however, take a moment to put yourself in their shoes.
AnyCollege.com encourages counselors to "think like a parent" who is dealing with a college-bound high school student. What are some of the issues that may be causing parents to act in an overbearing manner? The following are a just a few possibilities:
Parents may feel overwhelmed or confused by the college admissions process, especially if they didn't attend four-year colleges themselves.
Out of the many things going on in their increasingly independent teen's life (friends, dating, sports, prom, etc.), parents may feel that college plans are the one thing they can have some control over.
Parents might try to get a jumpstart on planning for college if they have worries about tuition costs, financial aid, etc.
With these examples in mind, it's much easier to understand the relatively intense behavior displayed by many overly involved parents. As a counselor, it may help to try to get to the root of these anxieties by discussing worries, fears and concerns with parents during the college planning process.
Provide Specific, Helpful Information
The more parents are informed, the less anxiety they may experience when thinking about their child's academic future. One of the best ways to calm an overly involved parent is to provide the information and tools needed to navigate the college planning and admissions process.
Consider putting together a helpful, detailed worksheet or checklist to guide parents and students through the steps together. You could also offer a college preparation seminar for parents each year that details what steps they can take, as well as the many ways in which you can assist them and their children. The information you provide can be empowering for a parent who feels lost or overwhelmed. Meanwhile, you can clarify what is expected of them as parents and of you as a counselor.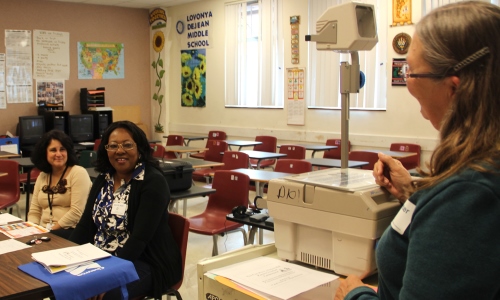 Be an Advocate for Students
Some overly involved parents aren't just worry warts. Instead, they may demonstrate some controlling or overbearing behaviors that are limiting their child's options for higher education. If you feel as though a student is being forced down a path which makes him or her uncomfortable, arrange a one-on-one meeting free of parental influence to discuss desires and goals. In other cases, a student may just feel stifled by a parent's constant reminders about applications, essays, recommendation letters, etc.
When you encounter students in this position, it's important to act as their advocate. According to the American School Counselor Association (ASCA), there are a few tactful ways you can curb this type of controlling or obsessive behavior on the part of parents:
Remind parents that the more they attempt to control their child's behavior, the more likely the student is to resist. For better results, parents can try giving the student options and appropriate consequences, which reinforces good decision-making and lets students take responsibility for their own actions.
Encourage parents to provide a supportive environment rather than one filled with commands or constant nagging. These parents can focus on providing positive experiences that get their child excited about college rather than focusing only on how many applications have been completed or how long the student has studied for the ACT each day.
Discourage parents from using language that lumps them in with their child. Words like "we" or "our" should not be used by parents when discussing college admissions. This also helps parents to realize that most college decisions should be based on the student's goals and interests rather than their own.
While working with an overly involved parent can be difficult, it's important to remember that their children are also lucky to have parents who care so much about their future and success. Try to keep the good intentions of overbearing parents in mind as you gently ease their worries and provide them with the right tools to assist their child in a healthy way.
People Who Read This Article Also Read:
Communication Tips: Dealing With Uninvolved Parents
Helpful College Resources for Low-Income Students
How to Communicate Effectively With Parents of Students
High School Guidance Counselor FAQ
Advertisement
Visit Our Student Center

Get on track!
And find out everything you need to know about planning for college.
Advertisement