See All
Colleges >
Are You Considering an Encore Career?
Are You Considering an Encore Career?
Find out what graduate degree you need to start your encore career.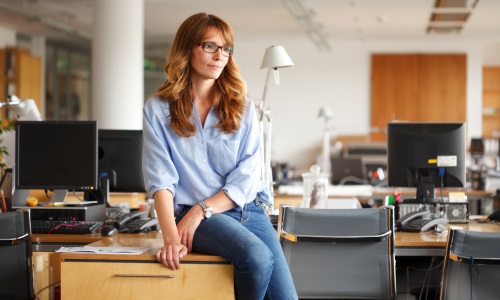 Photo: Thinkstock
Ditch the corporate life for a more rewarding career with a focus in healthcare, education, green technology and nonprofits.
People seeking encore careers are described as industry professionals who are switching to a more humanitarian career. The term encore career was first coined by author Marc Freedman, the CEO of Civic Ventures and is meant to be a new stage of work to fill the gap between a first career and retirement.
Many people need to get additional education in order to be qualified to make the move to their new career. Some people may need to pursue a certificate, career training associates degree, transfer associates degree or a bachelors degree, but many people need to seek a masters degree in order to be fully qualified. Don't let that intimidate you though, as many masters degrees can be completed in two years, or less. In addition, many states have tuition waiver programs for senior citizens of retirement age, making the cost of tuition obsolete.
Why are People Choosing Encore Careers?
Older professionals are choosing to pursue an encore career for a variety of reasons. Some students have always had the desire to be in a career in which they can give back to their community, while others are simply burned out on their current jobs, but not with working in general. The BLS reports that by 2018 there will be more jobs than there will be qualified people to fill them. The bulk of these jobs will be in green technology, healthcare, teaching and nonprofits.
Recently, baby boomers have seen the retirement age rising without having any say in the matter, which leaves them feeling trapped in their current profession. Encore careers provide this demographic with a reason to want to continue working, even after the government issued retirement age. Supporters of encore careers say that by having the aging baby boomer population continue work, they will essentially be raising the average retirement age.
Some people are hesitant about starting encore careers because they are worried about age discrimination. These feelings are valid, but according to a 2008 survey by Civic Ventures and Metlife, between 5.3 and 8.4 million Americans have already started their encore career, leading to the belief that if you put in the effort, you will be able to find an employer willing to hire you.
Earn a Masters Degree to Transfer to an Encore Career
There are many encore careers in which a masters degree can help you gain employment. Although many of these careers require taking a pay cut, most find the reward of helping others and continuing to be a productive American citizen outweigh this drawback. Below is a list of graduate programs that you may want to consider pursuing if you are thinking about switching to an encore career.
Top Masters Degree Programs
Related Applying for Graduate School Articles
See All College Planning in High School

See All How to Pay for College
See All Top News in Education Articles

Advertisement
Visit Our Student Center

Get on track!
And find out everything you need to know about planning for college.
Advertisement