See All
Colleges >
Bachelor's Degree Overview
Bachelor's Degree Overview
Learn all about this popular degree that will help you advance in your career.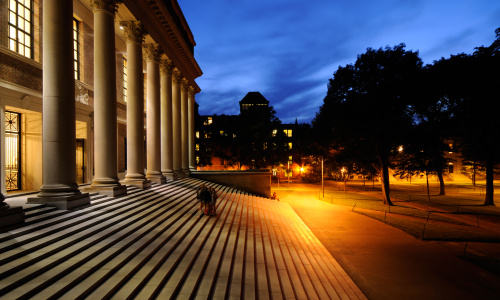 Photo: Thinkstock
The most sought-after college degree is generally thought to be the bachelor's degree. That makes sense when you realize how helpful a bachelor's degree can be for your career.
The 2010 US Census revealed that 30 percent of adults in the 25-and-older age bracket have a bachelor's degree.
A bachelor's is typically a four-year degree that provides students with courses in general education, liberal arts, electives and a major of their choice.
Bachelor's degrees are required for many occupations, and are a stepping-stone for those looking to earn their master's degree, PhD or professional graduate degree.
Many employers prefer to hire applicants with a bachelor's degree instead of someone with an associate's degree or a certificate because they have received more of a well-rounded education.
What is a Bachelor's Degree?
A bachelor's is typically a four-year degree that provides students with courses in general education, liberal arts, electives and a major of their choice.
Bachelor's degrees are extended associate's degree programs that include additional courses to help the student develop deeper critical thinking and analyzing skills that are an asset in any career.
In your program, you will need to take about 120 credits, which amounts to about 40 courses.
Most four-year colleges and universities offering bachelor's degrees require a student to spend the first two-thirds of their program studying general education and liberal arts courses such as English, mathematics, history, psychology and language arts before moving on to courses related to his major. This means that you take only about 10 or 12 courses that relate directly to your major.
BA vs. BS: Which One Is for Me?
Bachelor's degrees are not all created equal. There are two main types of bachelor's degrees: the Bachelor of Arts (BA) and Bachelor of Science (BS).
Which program is best for you? That depends on your major and what your chosen college decides to call it.
The BA and the BS are similar degrees. You must take a certain number of general education and elective courses. And they typically last for the same length of time.
The differences lie in the types of courses a student completes during the program. A student pursuing a BS will take more courses in the natural sciences. Engineering and journalism are two typical majors for those who earn a BS.
The BS is often considered the pre-professional degree because students take more courses toward their major, involving training that will directly correlate to their future career.
The more traditional degree, the BA, is centered more on academics, which help shape the student into a well-rounded individual. Students focus on literature and courses in the social sciences and foreign languages.
Art students interested in a career-focused education can complete a Bachelor of Fine Arts (BFA), which is considered the professional art degree. A greater amount of importance is placed on training for their future profession. BFA programs can be found in most art schools and four-year colleges and universities.
Some schools offer only a BA or a BS. California Institute of Technology (CalTech)and Massachusetts Institute of Technology (MIT), two of the most prestigious technical schools, offer only the BS. Other colleges such as Boston University offer both a BA and BS in a single subject, offering more career opportunities to interested students.
Popular Bachelor's Degree Programs
Having trouble choosing the right bachelor's degree program for you? Consider these popular programs:
According to the National Center for Education Statistics (NCES) between 2007 and 2008, more than 50 percent of bachelor's degrees awarded were in the following five fields:

Business (21%)

Social sciences and history (11%)

Health professions and related clinical services (7%)

Education (7%)

Psychology (7%)

Following close behind and comprising the next 20% of bachelor's degrees are:

Visual and performing arts (6%)

Engineering and engineering technologies (5%)

Communication and communications technologies (5%)

Biological and biomedical sciences (5%)

These statistics correlate to the job market, which calls for employees who hold bachelor's degrees in business, heath care and communications. Also, some careers require a bachelor's degree or higher. These fields include engineering, education, psychology and biological and biomedical science.
Benefits of Bachelor's Degrees
Bachelor's degrees are beneficial for most careers. You can start your career with a certificate or associate's degree, and these are great starting points. But a bachelor's degree gives you a competitive edge against other applicants. A bachelor's degree can also give you the chance to develop crucial critical-thinking skills, which are an asset in any career.
If you have a certificate, associate's degree or have no previous postsecondary schooling, a bachelor's degree might be your ticket to advancement.
What is the Value of a Bachelor's Degree?
What Jobs Can I Get With a Bachelor's Degree?

Advertisement
Visit Our Student Center

Get on track!
And find out everything you need to know about planning for college.
Advertisement