See All
Colleges >
College Reading Strategies: Read, Analyze, Remember
College Reading Strategies: Read, Analyze, Remember
College courses require a lot of reading. Find out how to maximize your reading skills with reading-comprehension strategies and tips to reading in college.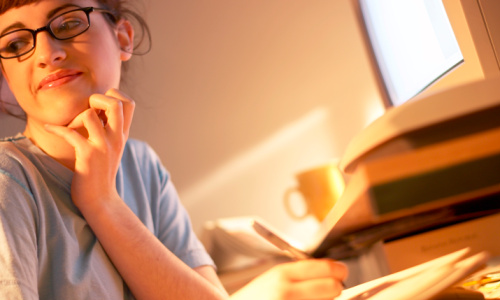 Photo: Thinkstock
Reading for college courses is completely different from reading done for pleasure. For most students, the amount of reading assigned by college professors is far too much to be able to read and understand thoroughly.
With that in mind, there are some steps you can take to get through the material while remembering all the important stuff you'll be asked to analyze later.
Read introductions to the book as well as chapter introductions to help identify key points in the reading.
Be Prepared for College Reading with Strong Reading Skills
Before you hit the books in college, you should already have a strong background in reading skills.
"There's a basic conflict schools have between basic skills and college readiness," noted David Conley, author of College Knowledge: What It Really Takes for Students to Succeed and What We Can Do to Get Them Ready.
Students should be well-read before they start college. Reading books, articles and magazines helps, as does discussing the material with friends and family.
Alice O'Grady, a California high school English teacher and former school librarian, said, "Students should know how to find books that they enjoy -- and they can independently search for subjects, keywords or authors they have read before. Empowering them to learn to do simple research will help them when it comes to doing research in college. Several times I have heard or read from college librarians that students come to the university without research or library skills."
Skim Through College Reading
Obviously, if you can't get through all your assigned college reading, some skimming is going to be necessary. But you need to know what to skim and what to skip over.
Skim more than just the first line and the last line in a book or paper. You need to skim for the main points and examples, but you can ignore tangents and secondary issues. Pay attention to the overall context for cues as to the main point.
Keep in mind the subject of the class and what's been discussed. What questions are trying to be answered? Are there overarching themes to the chapter/section/course? Look for definitive statements that support the theme of the class and pay less attention to suppositions and wonderings.
Read introductions to the book as well as chapter introductions to help identify key points in the reading.
More Reading Comprehension Strategies
While having a strong background in reading comprehension is crucial to getting through college reading, resources on campus can help you build better reading skills. If you need help with reading comprehension, visit the tutoring center or library, or talk to the professor during office hours.


People Who Read This Article Also Read:
How to Write College Papers
College Majors with Papers, College Majors with Tests
What is a Freshman Seminar?
The College Dean's List
Prestigious College Scholarships: The Fulbright, Truman, Marshall, and Rhodes Scholarships
Taking Notes in College
How to Write College Papers
What is a Writing Center?

Advertisement
Visit Our Student Center

Get on track!
And find out everything you need to know about planning for college.
Advertisement