Living in a Sorority
What you can expect living in a college sorority and tips and tricks on how you can survive sorority life.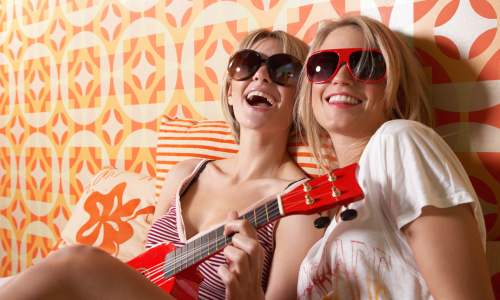 Photo: Thinkstock
Maybe you're already planning on rushing a few sororities, or perhaps you're just beginning to consider going Greek at your school. Whatever your current level of commitment, one of the most important aspects of sorority life is living in the house. If you're interested in living in a sorority house or are required to by sorority rules, we have some survival tips to help you get the best out of your Greek living arrangements.
What Should I Expect?
Before you decide to join a sorority, you should know what life in Greek housing is like. If you need a quiet environment with plenty of privacy, sorority life is probably not for you. The number of girls who live in a house vary, but some facilities are huge. The Kappa Alpha Theta house at Oklahoma State University has a capacity of 86 for example.
One of the many reasons to join a sorority is the social environment.
Even in smaller houses, though, you should expect a lively, bustling and relatively loud living community. Because of this, it's a good idea to get a lock for your room and some earplugs. Privacy and silence are hard to come by in sorority life, so take some steps to create a quiet study place for yourself.
One of the benefits of living in a sorority is that a house chef prepares daily meals. Of course, this also means that you have to align your eating schedule with that of the house. Most sororities begin serving dinner at 5 p.m.
Also, meal plans vary between sororities and even between chapters in the same sorority. For example, the chapter of Alpha Chi Omega at Florida State serves 15 meals a week, while the chapter at Georgia Tech serves only nine.
Financial Implications
The cost of living in a sorority house varies a bit depending on the chapter. At the University of North Carolina, a semester at Alpha Delta Pi will cost you slightly more than $3,000. Sororities at San Diego State and Case Western Reserve cost a little less, about $2,800.
Keep in mind that a large chunk of the cost is the house fee. Sorority members who don't live in a house will spend much less than those who do.
The Best Hangout on Campus
One of the many reasons to join a sorority is the social environment. With so many girls living in the same house, it's a great way to meet lots of people from different walks of life. Ignore the college myth of the "sorority girl" stereotype. Frankly, there's no such thing. All kinds of girls join sororities, and this is a big reason why they're such great places to hang out. Sure, you might encounter a catty girl or two, but that's bound to happen anywhere.
Rules
Make sure you're familiar with your sorority's rules. How ridiculous would it be to get evicted for breaking a house rule?
It's especially important to be familiar with your house's alcohol policies. In order to reduce alcohol-related incidents, many national sororities have adopted a dry policy, meaning no alcohol is allowed at sorority functions and in sorority houses. This is not to say that there won't be drinking at your house, but you should be cautious about the activities you engage in.
The Downsides of Sorority Life
Admittedly, it's not for everyone. Sorority life can be overwhelming for a lot of girls. If you like your home to be a place of solitude, stay away from sorority houses where you'll be surrounded by chatter, laughter and music nearly 24/7.
Privacy and security are also valid concerns. Especially in houses with frequent parties, there's always a possibility that your belongings might get stolen. Unfortunately, even if you take every precaution, there will always be a risk of theft.
Some people also feel that sorority houses can be insular. Because you're with the same people for a large part of every day, there's the possibility that you might get sick of your sorority sisters. For this reason, it's a good idea to have plenty of friends outside your sorority and to get involved with other organizations on campus. A little variety is always welcome.


People Who Read This Article Also Read:
Dorm Life 101
How to Choose a College Roommate
The Worst College Dorms
College Housing Myths
The Best College Dorms
Living in a Sorority
On-Campus Housing and Dorm Rules
Living at Home During College: Is It A Good Idea?
How to Get Along With Your College Roommate

Advertisement
Visit Our Student Center

Get on track!
And find out everything you need to know about planning for college.
Advertisement