See All
Colleges >
Unique Back to School Traditions at Top Colleges
Unique Back to School Traditions at Top Colleges
These college traditions might even make you look forward to the end of summer.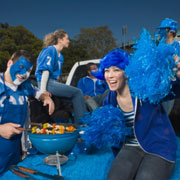 College is about more than just studying (Thank, God!), so trekking to class for the first time shouldn't be the only way you welcome in the new school year. These seven schools have interesting (and we do mean interesting) ways of ringing in the fall semester.
1. Georgetown College
At Georgetown's annual Fest, students get filthy participating in challenges on the mud-and-food-covered quad. They're all competing to be crowned king and queen of the event, but even those who win nothing get to enjoy the much-needed "Race for the Showers" at day's end. Is this what everyone meant by "getting dirty in college?"
Going back to school doesn't mean you have to settle for boring traditions, these schools start off with some style.
2. Reed College
Reed College students hold an annual Noise Parade toward the end of orientation week, and it's exactly what it sounds like: everyone marches around campus yelling, banging pots, playing instruments, and carrying torches. There also may or may not be alcohol involved (but you didn't hear that from us.)
3. Elon University
At Elon College (which means "oak" in Hebrew) every freshman is given an acorn at the end of orientation week; then, when they graduate, they receive a small oak tree to symbolize the growth they've experienced over time. Cue every grandmother in the world: "Awww!"
4. Vassar College
During Vassar College's start-of-the-year "serenading" tradition, each freshman dorm writes a song to sing to the senior class. Then, when the seniors come to listen to the original tunes, they -- get this -- cover the freshmen in condiments like ketchup and chocolate sauce. Things apparently get very messy and even a little violent. From singing to squirting, eh?
5. Clemson University
The First Friday Parade, held every year on the Friday before the season's first football game, involves student-built floats moving through campus and then parking at a pep rally at Clemson University. No one said Clemson didn't take football (or their partying) seriously.
6. Smith College
At the Smith College Convocation, students don elaborate costumes according to a theme their dorm (or "house") has chosen. We hear it's just as popular to wear a crazy outfit as it is to wear nothing at all. Smith is an all-girls school, so maybe that's not as awkward as it sounds?
7. Ohio State University
Ohio State has a foundation called Buckeyethon, that strives to raise money for kids with cancer and hosts an annual Miracle Miles 5k at the beginning of every school year. This year's race takes place at night and has a "glow in the dark" theme, so go splurge on some bright Lululemons, ladies – it is for a good cause, after all.
Moral of the story: if you're attending one of these schools, stop being so sad about Labor Day approaching. In your world, fall is totally the new summer.
People Who Read This Article Also Read:
5 Colleges With the Best Freshman Orientations
4 Colleges With Cool Holiday Traditions
10 Best Colleges for Dating
7 Colleges Your Mom Doesn't Want You to Attend
Advertisement
Visit Our Student Center

Get on track!
And find out everything you need to know about planning for college.
Advertisement