See All
Colleges >
Where did your Favorite NFL Players go to College?
Where did your Favorite NFL Players go to College?
The majority of professional football players played college football. Find out where they played before they were drafted into the NFL.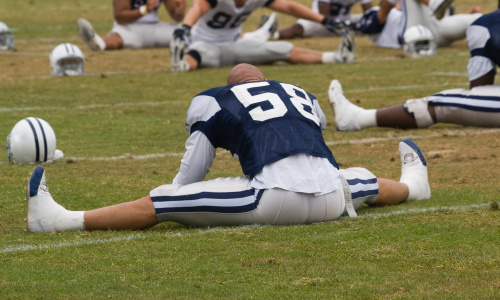 Photo: Thinkstock
NFL players have high college graduation rates compared to other major sports players in the United States. While only some 21% of NBA players have degrees from a college or university, close to half of the total number of football players in the country have graduated. This is largely attributed to the way in which the National Football League uses college as a training and recruiting ground for future professional players. Most NFL athletes don't declare professional eligibility until later in their college careers.
Many NFL players have strong college pride and come from various colleges throughout the country. Check to see if your favorite NFL players made the list, and find out where they went to college before they became a part of the National Football League.
Many NFL players have strong college pride and come from various colleges throughout the country.
Where did the Highest Paid NFL Players Go to College?
Peyton Manning is guaranteed to make $15.8 million on the last year of his contract with the Indianapolis Colts. Before he was drafted in 1998, he played quarterback for the University of Tennessee.
Nnamdi Asomugha is a defensive back for the Oakland Raiders. He was guaranteed $14.8 million last year, which is a lot more than he was making back in his days playing for the University of California at Berkeley.
Donavon McNabb was traded to the Washington Redskins midway through his contract, but that didn't stop the former Syracuse QB from pulling in $11.5 million last season.
Champ Bailey is a nine-time Pro Bowl defensive back for the Denver Broncos. Last season was the final year of his contract, but he was still guaranteed $9.5 million. Bailey attended the University of Georgia.
Where did the Best NFL Running Backs Go to College?
Adrian Peterson of the Minnesota Vikings attended the University of Oklahoma. At Oklahoma, Peterson set the NCAA freshman rushing record with 1925 yards.
Chris Johnson is another running back perceived to be top in the league. Before playing professional football, he played college football at East Carolina.
Where did NFL Legends Go to College?
John Elway went to Stanford University where he played both football and basketball before becoming quarterback for the Denver Broncos.
Terry Bradshaw played at Louisiana Tech University, and then went on to win four Super Bowls in six years as quarterback for the Pittsburgh Steelers.
Johnny Unitas spent the majority of his 18-year NFL career with the Baltimore Colts. He was the first quarterback to throw for 40,000 yards and his 47-game touchdown streak still stands today. He attended college and played football for the University of Louisville.


People Who Read This Article Also Read:
NFL Players Head Back to College
Student Organizations: An Overview
NBA Players Going Back to College
Student Government
Academic Competitions for College Students
How To Start Your Own Student Organization
Where Did American Olympic Athletes Go to College?
College Bowling

Advertisement
Visit Our Student Center

Get on track!
And find out everything you need to know about planning for college.
Advertisement