See All
Colleges >
College Towns: San Luis Obispo, California
College Towns: San Luis Obispo, California
Learn more about San Luis Obispo, California - home of California Polytechnic State University.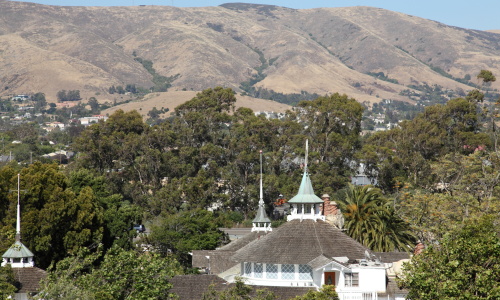 Photo: Thinkstock
The Town: San Luis Obispo, California
Nicknamed the "happiest place on Earth," San Luis Obispo is a town of 45,000 located almost directly equidistant between Los Angeles and San Francisco. Expect all the local charm and friendliness of a small town mixed with enough restaurants, shopping and activities to always keep you busy. As with most of coastal California, you can expect mild winters and warm summers.
Attendance at Cal Poly is just under 20,000. Located in close proximity to Poly Canyon, the school is the second-largest land holding university in the state. For eight straight years, the school has been ranked as the best public master's university in the Western United States.
All new students participate in the Week of Welcome program (WOW) to acclimate themselves to the rigors of college life.
While Cal Poly is regarded as an excellent overall academic institution, the engineering, agriculture and architecture schools are the most renowned. Three NASA astronauts are alumni as well as Burt Rutan, the lead designer of suborbital spaceplane SpaceShipOne, which completed the first privately funded and executed manned private spaceflight in human history.
What to Do
Cal Poly is a biker's paradise. For many students, biking is the preferred method of transportation around campus. The city's passion for biking is highlighted by a major triathlon held every summer. In addition to biking, you can hike the nearby Santa Lucia Mountains or take a visit to the San Andreas Fault.
All new students participate in the Week of Welcome program (WOW) to acclimate themselves to the rigors of college life. The largest orientation program run exclusively by volunteers, current students will lead new freshmen in a variety of events, meetings and exercises. These activities are designed to help students make friends, gain familiarity with the campus and learn what will be expected of them in order to succeed academically.
Where to Eat and Drink
For beautiful outdoor views, make a reservation at Novo, located in downtown San Luis Obispo. Cal Poly is one of the few colleges that can boast a local vineyard. Wine lovers can take a tour of the Edna Valley Vineyard, which produces 18 distinct red and white wines.
Did You Know?
Actor Zac Efron was born and raised in the city of San Luis Obispo.


People Who Read This Article Also Read:
The Top 40 College Towns in the US
College Towns: Charlottesville, Virginia
College Towns: Grand Forks, North Dakota
College Towns: Tallahassee, Florida
College Towns: Gainesville, Florida
College Towns: Tucson, Arizona
College Towns: Eugene, Oregon

Advertisement
Visit Our Student Center

Get on track!
And find out everything you need to know about planning for college.
Advertisement