See All
Colleges >
Military Children Education Benefits
Military Children Education Benefits
Learn more about the college scholarships and other benefits for kids of military service members.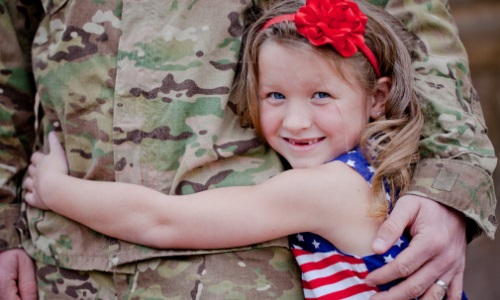 Photo: Thinkstock
If one of your parents has a military background, you could be eligible for scholarships, grants and other education benefits through the US Armed Forces. There are a number of programs in place to help children of military service members pursue a college education.
In some cases, these programs are designed specifically for children of those in the military, and in other cases, your parent can transfer unused education benefits to you. Whether you plan to enter the military yourself, it can be a significant source of college money toward your degree program.
Because military families tend to move frequently, they face unique challenges in completing a college degree.
As you're pursuing financial aid toward your college degree, talk to your high school guidance counselor and the financial aid office of the schools you're interested in to find out more about what military college aid programs may be available to you. Below is information about some of scholarships and other benefits you may be eligible for.
Armed Forces Children's Education Fund
This non-profit organization offers college money for children who lost a parent on or after October 7, 2001, as part of Operation Enduring Freedom. Students must be enrolled at colleges or universities that the fund deems eligible. Request an application through the Armed Forces Children's Education Fund website.
Children with a parent who died or became permanently disabled as a result of their involvement in active duty, or who is or was missing in action, captured or detained while serving in the Armed Forces, are eligible for this money for college. Apply through the Veterans ON-line Application (VONAPP) website by filling out the VA Form 22-5490, Application for Survivors' and Dependents' Educational Assistance.
Scholarships for Military Children
Through this program, at least one $1,500 scholarship is awarded to the child of a military service member at each commissary location that receives qualified scholarship applications. This college money can be used toward tuition, books and other school costs. Apply for this scholarship through the Scholarships for Military Children website.
The education benefits of this bill, intended for service members, can be transferred to one or more children through Transfer of Entitlement. In addition, children whose military parent died in the line of duty on or after 9/11 are eligible to receive the Marine Gunnery Sergeant John David Fry Scholarship, which awards up to 100% of tuition and 36 academic months of college benefits. Learn more about the bill at the Department of Veterans Affairs website.
Servicemembers' Opportunity Colleges (SOC)
Because military families tend to move frequently, they face unique challenges in completing a college degree. This organization helps service members and their children complete degree programs on or near their military installations in the US and internationally or through distance learning programs like online schools. Go to the SOC website for more information on participating colleges and universities and the SOC benefits for each branch of the military.
Military Children Tips & Tactics
If you're pursuing military scholarships, request applications and complete them as soon as you can. Some scholarships can have lengthy forms that include essays, and they may have deadlines of up to a year before you enter school.
Don't assume military aid will cover all of your costs. You'll also want to pursue civilian college aid, like federal aid and state aid in the form of scholarships, grants and college loans. Apply for federal aid by completing the Free Application for Federal Student Aid (FAFSA) form and other forms of aid through the CSS/Financial Aid PROFILE form.
To get as much scholarship money as possible, apply for all the scholarships you're eligible for. Contact service aid organizations to see if they offer scholarships for college. Also, talk to your high school guidance counselor and the financial aid office at the school you'd like to attend to see what scholarships may be available to you.
People Who Read This Article Also Read:
Military Financial Aid Programs: the Basics
GI Bill Programs: the Basics
Military Scholarships: The Basics
Survivors' and Dependents' Educational Assistance Program (DEA)

Advertisement
Visit Our Student Center

Get on track!
And find out everything you need to know about planning for college.
Advertisement