See All
Colleges >
10 Job Search Tips for the Busy Job Seeker
10 Job Search Tips for the Busy Job Seeker
Read 10 employment tips that will save you time and help you find a job as soon as possible.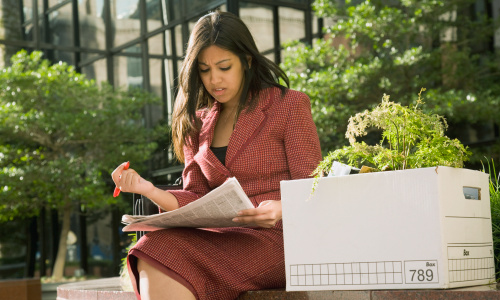 Photo: Thinkstock
By Christopher Geno
These job search tips are targeted to both first-time job seekers and professionals getting back into the job market. If you're looking for employment tips, use the following to make your life a little easier as you find a job.
Top Job Search Tips
1. Maintain a positive attitude
Finding employment can be difficult, so don't make it worse for yourself. Stay upbeat, and take a day off once in a while if it's been tough. This is especially important if you meet with a potential employer.
Check out the company website, know the company mission statement or learn a little bit about the financials, sales, or any other important information you're interested in.
Don't wait until your prospective employer asks for them. Find three people who you know, preferably former employers or supervisors, and have their contact info handy.
4. Search for yourself
It's not just for celebrities. Employers will use Internet search engines to find you, so you should too. Make sure you keep professional and positive information on the Internet, and if you find an old link to an inappropriate picture you can take steps to remove it.
5. Blog
This might not help you find employers, but it might help employers find you. If you're passionate about your field, write about it. It can be fun and engaging. At best, establishing yourself as an online authority can invite job offers. At worst, it shows you're passionate about your field.
Sometimes employers can be cryptic about proper interview procedure, especially when it comes to etiquette and attire. What does business casual even mean?
Make it easy on yourself and overdress. If you have a suit, wear a suit. If not, go with a dress shirt and tie. An appropriate top and either slacks or a professional-looking skirt of reasonable length are good options for women.
7. Use social media for professional networking
Connecting with your network of colleagues and friends over the Internet is the easiest way to keep up with everyone. Employers love referrals, and if you know someone from a company that is hiring, you have a huge advantage.
8. Remember to search for jobs on your own time
If you have a job, you shouldn't be searching for your new job on company time. Besides the fact that many companies monitor computer use, it's also bad form since the company is paying you for the time you spend.
9. Save your resumes and cover letters
One important job search tip is that all your resumes and cover letters should be unique and targeted to each company you apply to. But if you save copies of the resumes and cover letters you send, you might be able to save time by using them as templates.
10. Learn more about the job search process
There are plenty of articles on resume and cover letter writing. You can find a sample resume, tips on utilizing social media, mistakes to avoid during your hunt for employment and our top 10 myths about the job search process.
Advertisement
Visit Our Student Center

Get on track!
And find out everything you need to know about planning for college.
Advertisement