See All
Colleges >
Indian International Students
Indian International Students
Learn the basics of applying to college in America as an international student.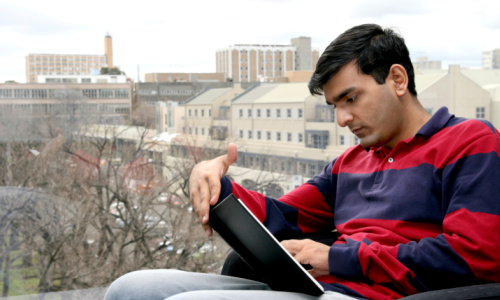 Photo: Thinkstock
Indians have a long history of studying in the US, but times have changed. Today's Indian international student is much different than students from past decades.
Indian families continue to send their children to the US for a traditional American liberal arts college experience. The trend is for these students to move back to India after graduation. Although India still has its problems, Indian students in America see hope in returning home once they earn their degree.
A small college allows you the chance to develop relationships with your professors and take advantage of small classes.
The allure for Indian college students to study in the US is simple. Their country is too populated to accommodate the number of students eager to obtain a college degree. India has the worst student-to-faculty ratio in the world at 26:1.
However, India's parliament is restructuring the country's higher education system, so this may change in the future.
International Students From India
According to the Open Door document published by the Institute of International Education, during the 2009-2010 school year the number of Indian college students in America increased 2 percent, or more than 105,000.
This is a lower growth rate than the previous year, but Indians remain the second-largest international group studying in the US. In fact, Indian students represent 15 percent of all international students.
Because there is such a large number of Indians in the US higher education system, some colleges and universities have begun recruiting young Indians—from high schoolers to graduate students—in India. Lone Star Community College, which has five campuses across Texas, began recruiting Indian students in 2009.
International Student Colleges
What colleges do Indian international students attend?
Many students find the transition to college abroad jarring, and they need some help acclimating to American life. These students should search out a college with an active Indian Student Association. Boston College, Brown University, Stanford University, Michigan State University and Virginia Tech are just a few colleges with Indian Student Associations.
If you want to really immerse yourself in American culture, you might want to attend a small college in an urban setting like New York City, Boston, Chicago or Los Angeles. A small college allows you the chance to develop relationships with your professors and take advantage of small classes. You won't feel like just a number.
Community colleges might also be a good choice for Indian students. Community-college campuses are diverse and provide high-quality courses at a cheaper price. International students can earn their associate's degree and later transfer to a bachelor's degree program.
Applying to American Colleges as an International Student
Indian students interested in attending a bachelor's degree program at an American college must have completed at least 12 years of school and have the equivalent of a high school diploma. Prospective graduate students must have the equivalent of a bachelor's degree.
You will also need to pass an entrance exam. The most popular undergraduate entrance exams are the SAT and the ACT. Your graduate program might require you to take the GRE, GMAT, MCAT or LSAT, depending on your intended field of study. All tests require strong English, mathematic, science and language skills.
Additionally, International students must pass the Test of English as a Foreign Language (TOEFL), which measures your ability to speak, write and comprehend the English language.
Because India's economy is on the rise, engineering, business and management remain the most popular programs for Indian international students.


People Who Read This Article Also Read:
How to Apply to College as an International Student
Student Visas
International Exchange Programs
Prospects for International Students After Graduation
African International Students
EU International Students
Top Schools for International Students
Middle Eastern International Students

Advertisement
Visit Our Student Center

Get on track!
And find out everything you need to know about planning for college.
Advertisement