See All
Colleges >
MBAs for International Students
MBAs for International Students
Learn more about MBA programs for every type of international student.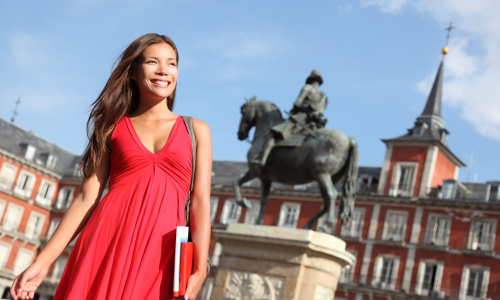 Photo: Thinkstock
Don't think that since you're an international student, you won't be able to get into the MBA program of your choice. In fact, 40% of all MBA students at Stanford's Graduate School of Business were born outside of the United States.
While the application process is slightly different and entails a little more work on your part, your resume will be judged on grades, test scores, and letters of recommendation – the same as any US-born student.
Many schools have work-study programs for international students.
US vs. Foreign MBA Programs
Before committing to a program, understand some of the key differences that exist between US and foreign business schools.
Most foreign MBA programs take a year to complete, whereas US programs take two. Additionally, at many foreign universities, applicants are asked to take exams on their own. This isn't the case in the United States. Keep in mind, however, that the challenges of standardized tests, classwork, and internships depend more on your school's curriculum than on its location.
Student Visas
As an international student, you will need to obtain an F-1 Student Visa in order to study at an American university. All applicants must submit the following forms:
Form I-20-AB, certificate of eligibility for non-immigrant academic and vocational students.
Form DS-160, nonimmigrant visa application.
Valid passport.
A 2x2 photograph.
Transcripts, diplomas, and academic records.
Any scores from standardized tests.
Financial evidence that proves you have the necessary funds to pay for tuition and living expenses.
Additionally, you will have to interview with an embassy consular. Check with your country's embassy to find out the specific application and appointment waiting times.
GMAT Preparation for International Students
Like all MBA students, you will be required to take the Graduate Management Admission Test (GMAT) as part of the application process. Even if you are not a native English speaker, you will not be given leniency on the verbal and analytical writing sections, so make sure your English is adequate before taking the test. This can be the most difficult part for some students, and English classes for MBA students are quite common.
Kaplan Offers a GMAT preparation course specifically for international students. It is highly recommended that you do some form of preparatory work before taking the test. While the GMAT is offered year-round in the United States, opportunities may be limited abroad. Check with the official GMAT website to find locations and dates near you if you plan on taking the test abroad.
Financial Aid
As an international student, you are not eligible to receive federal financial aid. However, many schools (especially private universities) offer private loans and scholarships that are available to non-US citizens so long as they have a US co-signer.
Although opportunities for scholarships and loans may be limited, most schools have work-study programs for international students that may compensate members with a living stipend. Meet with your school's financial aid office as well as the center for international students to learn what forms of assistance you can receive.


People Who Read This Article Also Read:
Do I need a Business Major to Get an MBA?
MBA: Is It For Me?
Types of MBA Programs
Top 10 Tips on Applying to an MBA Program
Should I Earn a Masters Degree or an MBA?
Is an Online MBA for me?
Top 10 Online MBA Schools
How Hard Are MBA Programs?

Quick Search: Find the College that's Right for You!
Advertisement
Visit Our Student Center

Get on track!
And find out everything you need to know about planning for college.
Advertisement