See All
Colleges >
5 Ways to Cope With Homesickness in College
5 Ways to Cope With Homesickness in College
If you're longing to be back home, this expert advice could help.
Photo: Thinkstock
Moving away to college is thrilling for many students. For most, it's the first time living away from home and their parents. Even if you find that prospect exciting, you can still be hit with feelings of homesickness at college, particularly during freshman year when changes are the starkest. If missing home is distracting you at school, use these expert tips to start feeling more at home at college.
Before looking to our expert tips for advice, make sure to identify the feelings you're experiencing. While it's common for college students to experience homesickness during their time away from friends and family, it's possible that other factors could be causing you to feel sad or lonely.
As important as it is to keep in touch with your loved ones from home, it's equally important to make an effort to be happy in your new surroundings.
According to the journal of the American Academy of Pediatrics, homesickness is defined as "distress and functional impairment caused by an actual or anticipated separation from home and attachment objects such as parents." It's common to experience anxiety, nervousness and sadness if you're homesick. But the thing that really makes you homesick is an obsessive preoccupation with thoughts of home and a need for love and security.
If missing home is just of the many things occupying your mind when you feel upset, then it's possible that something like an anxiety disorder or depression is really the main issue. Be sure to evaluate what's making you feel blue to get the best help and advice for what you're experiencing.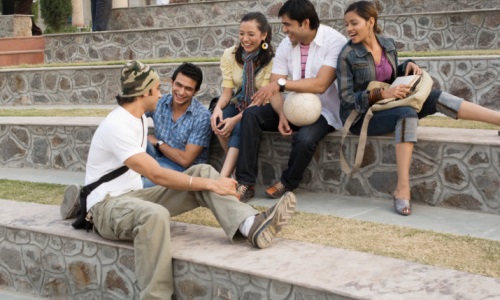 Photo: Thinkstock
1. Get in Touch Regularly
Columbia University's Internet health resource Go Ask Alice! suggests setting up a regular schedule for keeping in touch with the family and friends from home that you miss the most. To help ease your feelings of homesickness, use phone calls and Skype sessions to stay connected with loved ones. If you and/or your parents get quite emotional when you talk, try using text-based communications most of the time to limit hearing each other cry or get upset. "That real-time contact with home exacerbates homesickness," psychologist Chris Thurber told CNN, so try letters, emails and text messages instead of calls.
2. Make Time For Your New Life
As important as it is to keep in touch with your loved ones from home, it's equally important to make an effort to be happy in your new surroundings. As clinical psychologist Dr. Josh Klapow told HerCampus.com, "Feeling homesick is part of learning to live a new life -- you can't do it without going through some sort of adjustment period." If you're nervous, start small; make it a goal to talk to one person in each of your classes, or to introduce yourself to a few neighbors in your dorm. From there, you can join an academic or athletic club, sign up for campus activities, volunteer in the community or schedule hangouts with new friends at school.
As college student Lindsay Mayfield told U.S. News and World Report, "Getting involved helps to form new circles of friends. The people I met last year in my sorority and through the Student Ambassadors program became my 'family' while I was away from home, and were a great support system for me."
3. Bring Home to You
There are numerous ways you can feel a bit more at home in your new surroundings. Go Ask Alice! suggests the following ways of bringing a bit of home to your college campus:
Hang up photos of your friends, family, pets or childhood home in your dorm room.
Find restaurants that serve a meal that reminds you of home, or learn to make it yourself.
Tell a new friend what you love about your hometown, and ask them to describe where they grew up.
Get to know some of the people at a favorite new place on campus or around town, whether it's a coffee shop, a church or a bookstore.
Invite a family member or friend to come visit for the weekend so you can show off your new campus.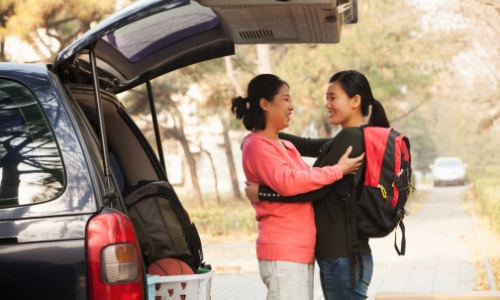 4. Seek Professional Help
Nearly every college has its own on-campus psychologists or mental health professionals. If you're having trouble dealing with homesickness, then don't hesitate to reach out to them. They're actually some of best-equipped people for advice in this area because they regularly deal with homesick students. You don't have to be in a dire situation to schedule an appointment, either. As Dr. Klapow says, "Seeking out a professional to talk to doesn't mean you have a psychiatric problem. Homesickness is such a common issue…you won't be the first person."
5. Stick It Out
Though the tips listed above may ease homesickness a bit, it's likely that these feelings will still hit you from time to time. Working through those feelings whenever you can is better for you in the long run. As Thurber puts it, homesickness is "the very thing that inoculates against a future bout of homesickness. By living through a difficult separation, your mind forces itself to cope." It's natural for homesickness to hit you the hardest at the beginning of college, but dealing with it and finding the right ways to cope will make it easier to handle as time goes on.
Homesickness is a completely natural feeling for college students to experience. However, don't hesitate to reach out for help if you need it. Contact your on-campus health center to make an appointment with a mental health counselor if you need help coping with homesickness.
People Who Read This Article Also Read:
Ways to Make Your Freshman Year Memorable
5 Colleges With the Best Freshman Orientations
How to Make Your Dorm Room Feel Less Like a Prison Cell
How to Get Along With Your College Roommate
Quick Search: Find the College that's Right for You!
Advertisement
Visit Our Student Center

Get on track!
And find out everything you need to know about planning for college.
Advertisement