See All
Colleges >
College Towns: Flagstaff, Arizon
College Towns: Flagstaff, Arizon
Learn more about Flagstaff, Arizona -- Home of Northern Arizona University.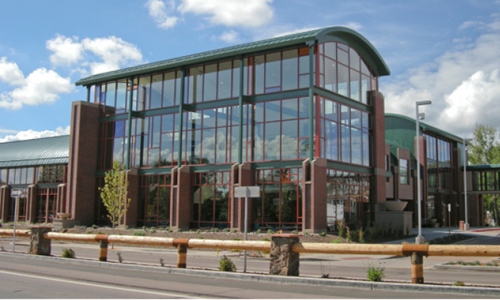 The Town: Flagstaff, Arizona
Named after a flagpole made by a party of explorers in celebration of July 4, Flagstaff lies almost 7,000 feet above sea level on historic Route 66. The dry high-altitude climate creates four distinct seasons without reaching extremes, though winters tend to be a bit snowy.
A public university that is home to 17,000 students, Northern Arizona has 39 separate campuses throughout the state. Offering a unique and flexible curriculum, students can take night, weekend, or accelerated classes at any satellite location.
Flagstaff is known as a paradise for athletes and outdoor enthusiasts.
Of the school's 93 different majors and academic programs, elementary education, nursing, criminology and biology are rated among the best.
What to Do
Flagstaff is known as a paradise for athletes and outdoor enthusiasts. Many elite athletes live in the area to take advantage of high-altitude training, and it used to house the US Olympic Committee's official high-altitude training center. But you don't have to be training for the Olympics to take advantage of all the outdoor amenities. The city is only a short drive from Grand Canyon National Park and the Arizona Snowbowl ski resort.
An increased lung capacity isn't the only benefit of Flagstaff's high altitude. Lowell Observatory gives visitors incredibly clear and vivid views of the stars. Take a tour of the facilities and make sure you get a glimpse of the sky through the famous Clark Telescope.
Where to Eat
Relive the history of Route 66 when you stop by Mike & Rhonda's The Place. Not only does the décor resemble America's past, the prices do as well. For less than $5, you can buy a full breakfast that includes eggs, hash browns, sausage or bacon, and toast.
Did You Know?
The first graduating class of Northern Arizona comprised only four women, who became certified teachers in Arizona.


People Who Read This Article Also Read:
The Top 40 College Towns in the US
College Towns: Ames, Iowa
College Towns: Urbana-Champaign, Illinois
College Towns: Corvallis, Oregon
College Towns: Bloomington, Indiana
College Towns: Logan, Utah
College Towns: Athens, Georgia
College Towns: Chapel Hill, North Carolina

Advertisement
Visit Our Student Center

Get on track!
And find out everything you need to know about planning for college.
Advertisement