See All
Colleges >
Tasty Halloween Dorm Snacks
Tasty Halloween Dorm Snacks
Check out these simple and sweet treats you can whip up for some Halloween fun at college.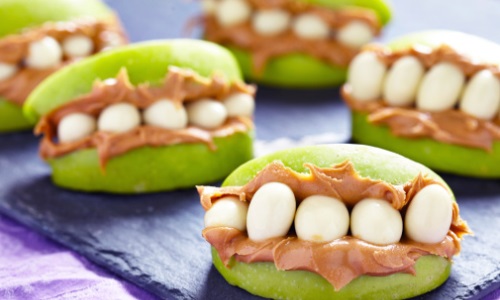 Photo: Thinkstock
Halloween is all about sweets. But big bags of candy are for kids. If you're looking for something a bit more creative and grown-up, consider making your own tasty Halloween snacks instead. While dorm life certainly has its limits when it comes to the culinary arts, we've found some great Halloween treats that are easy to make with limited or no access to a kitchen.
Super-Quick Snacks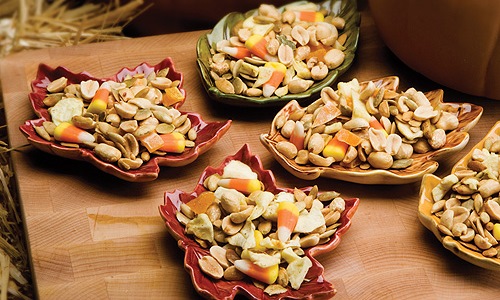 Want something that you can whip up in just a few minutes? Here are a few fast and fabulous Halloween treats for last-minute snacking:
Your dorm room may not have an oven or other kitchen essentials, but that doesn't mean you can't make plenty of fun and creative Halloween snacks at college
• Halloween Trail Mix: Combine cereal, peanuts, candy corn and chocolate candies in a bowl for a great snack to munch on while watching scary movies. You can get creative with what you want to add depending on what's available to you. Other tasty ingredients include yogurt-covered raisins, banana chips, corn chips and pretzels. • Caramel Apple Dip: Skip the messy process of making caramel apples on a stick. Instead, slice up some green and red apples and melt some caramels to make a delicious dip. You can even buy caramel dip at the store if you don't have a microwave available for melting. For added flavor, sprinkle some nuts or mini chocolate candies on dipped slices. • Spooky Sandwiches: Make a sampling of small sandwiches with your fillings of choice (chicken salad, turkey and cheese, PB&J, etc.). Then, use cookie cutters to cut each sandwich into a Halloween-themed shape, like pumpkins, ghosts or witch hats. These are perfect if you need a little break from all the sweet treats available on this holiday.
Halloween Drinks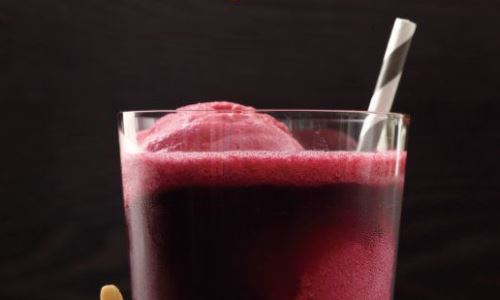 These beverages are sweet and festive, making them a great snack on their own or a complement to your array of dorm-friendly snacks. Here are two easy Halloween drink options.
• Bloody Floats: Combine 4 cups of grape juice, 750 ml of sparkling apple cider and ½ cup of lime juice in a large pitcher and mix. Scoop raspberry sorbet into individual glasses and top with the juice mixture for a delicious, dark red treat. (From Martha Stewart) • Ogre Eyes Hot Chocolate: Use ready-made cocoa mix and your microwave to prepare mugs of steaming hot chocolate for you and your guests. While the cocoa is warming up, cut slits into the top of large marshmallows and insert a mint chocolate chip into each one. Top each filled mug with two of these googly eyes for a tasty twist on a classic fall drink. (From Taste of Home)
Candy Corn Crispy Treats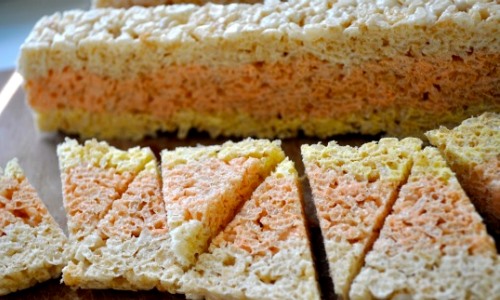 Leave it to the queen of homemade treats to come up with this sweet snack.
Martha Stewart
has an excellent recipe for a Halloween-themed Rice Krispie treat. While it'll take a bit more time than the quick snacks listed above, it's worth it for the stunning results.
Ingredients: • Cooking spray • 9 tbsp. unsalted butter, divided • 12 cups mini marshmallows, divided • 3/4 tsp. fine salt, divided • 9 cups crisp puffed rice cereal, divided • 1 tbsp. grated orange zest • Yellow and red food coloring • 1 tbsp. grated lemon zest
Steps: 1. Lightly coat a 5x9-inch loaf pan with cooking spray. 2. Use a microwave to melt 3 tbsp. butter. Stir in 4 cups of mini marshmallows and ¼ tsp. salt. Once mixed, stir in 3 cups of puffed rice cereal and immediately add them to the pan. Use a spatula coated with a bit of cooking spray to press the mixture into an even layer. 3. Repeat step 2 twice. In your second batch, add orange zest and a yellow and red food coloring to tint your marshmallow mixture orange before you add the cereal, then press it into the pan. For the third batch, add the lemon zest and yellow food coloring to tint the marshmallow mixture yellow, then press into the pan. 4. Let the pan set for 2 hours (or overnight). Run a small knife around the edges before inverting the loaf onto a cutting board. Use a serrated knife to cut the loaf into 10 slices. Cut each slice in half crosswise. 5. Use your hands to gently mold each piece into a candy corn shape.
Wormy Dirt Cake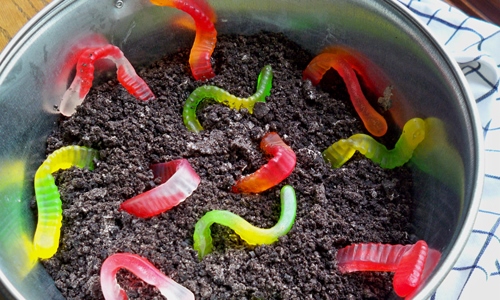 Another great Halloween snack that takes a bit more prep time is the classic dirt cake. This
Betty Crocker recipe
is one of the fastest and easiest you'll find. Get creative when making this holiday treat in order to add a spooky vibe.
Ingredients: • 2 packages of Double Stuff Oreos • 8 oz. package of cream cheese • 2 small boxes of vanilla pudding • 1 large tub of Cool Whip • 1 cup butter, softened • 2 cups milk
Steps: 1. Whip the cream cheese and butter together. 2. In a separate bowl, mix the pudding, milk and Cool Whip. 3. Combine the mixtures from steps 1 and 2 and mix together. 4. Crush or chop the Oreos to your desired texture. 5. Alternate layering the Oreos and the pudding mixture in a large pan or bowl. 6. Let chill in the refrigerator for an hour. 7. Before eating, add gummy worms, skull-shaped candies, Milano cookies (when inserted upright, they can look like tombstones) and other sweets to the dirt cake for a Halloween theme.
Your dorm room may not have an oven or other kitchen essentials, but that doesn't mean you can't make plenty of fun and creative Halloween snacks at college. Use these easy recipes to create a festive atmosphere in your college dorm this year.
People Who Read This Article Also Read:
13 Colleges With Halloween Spirit
Halloween Costumes You Can Make in the Dorms
Fun Halloween Activities for Your Dorm
7 Colleges With the Most Spooky Dorms
Quick Search: Find the College that's Right for You!
Advertisement
Visit Our Student Center

Get on track!
And find out everything you need to know about planning for college.
Advertisement