See All
Colleges >
Time Management Skills for College Prep
Time Management Skills for College Prep
Learning good time management skills can help with your high school studies - and your college preparation.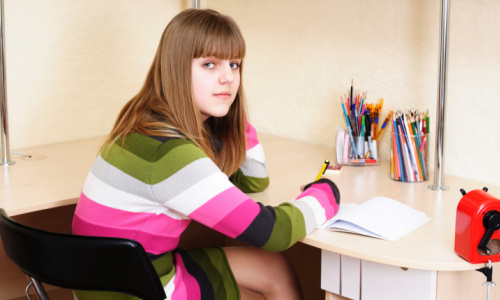 Photo: Thinkstock
Have you ever found yourself staring at your blank computer screen at 9 p.m., exhausted and wide awake at the same time, as you attempt to come up with an idea for that essay due first period?
While it may seem obvious, time management skills (when developed and used correctly) can solve this problem. The old adage, "slow and steady wins the race" really is true when it comes to doing homework - whether that's writing a paper, studying for a test or completing a college application.
Everyone knows all-nighters aren't going to produce the best results so try to avoid them at all costs
What is Time Management?
So, what exactly are time management skills? Well, they are just that - skills – that need to be learned and developed. And, like any skill, whether it's shooting a basketball or playing piano, there are established tools and methods for perfecting your techniques. Time management might also be called task management – because many times, management activities are about completing tasks.
Ideally, the tasks you aim to complete will be aligned with your goals. The author Stephen Covey, in his best-selling book Seven Habits of Highly Effective People, identifies seven steps toward achieving your goals. Step number two: Begin with the end in mind. What is your ultimate goal? Make your time management activities support your goal.
Time Management Techniques and Methods
One method for managing time and getting things done used by many well-known writers including Ernest Hemingway, is the "chained-to-the-desk" method. Not nearly as brutal as it sounds, this method involves sitting down for a designated amount of time-whether it's 10 minutes or one hour-every day. For that amount of time, do nothing but work on your project, whether it's memorizing chemical formulae or writing that paper on the French Revolution.
Another similar (and helpful) time management method is to focus on the volume of work instead of time. For instance, a writer might set a goal of writing 200 words per day or a student might set out to read 50 pages every day. The trick is staying with the project until its daily quota is complete.
Time Management Tools
In addition to getting the work done, the other key aspect of time management is doing things on time – meeting deadlines and due dates. Ironically, the things that can distract you the most, are perhaps the best tools ever invented for time management: your computer and your mobile phone.
Break out the cell-phone or the laptop and instead of texting or messaging others, text or message yourself. This is a great, simple way to send reminders about due dates or tasks to do. If you want to get serious, there are multiple applications for both mobile and desktop devices that can help you manage time. You'll find a variety of to-do lists, reminders, calendars, and the like. If it's all too much, you can always go back to the good, old-fashioned paper datebook.
Time Management Skills and College Applications
The college application process is not only time-consuming, but requires that you collect and organize lots of materials, including transcripts, recommendation letters and test scores. Add your personal statement essay to that list and then multiply the whole process by the number of schools to which you apply and…you get the idea. College application time is the perfect chance to put your time management skills into practice.
Time Management Skills for College Prep: Tips and Tactics
Everyone knows all-nighters aren't going to produce the best results so try to avoid them at all costs. You'll feel better about your finished product and about yourself if you work slowly and steadily throughout the assignment period.
Stress can be a productivity killer. Learn what stresses you out and how you can combat it in your own specialized way.
Remember: limit distractions, increase motivation, organize, and plan. These few actions can help increase your productivity during college preparation and help to accomplish all of your college goals.
People Who Read This Article Also Read:
Handling Pressure From Parents During the College Admission Process
Top 10 Things Parents Say About College
Competition During the College Admissions Process
College Admissions Stress
Can High School Dropouts Still Go To College?

Related Timeline Articles
Advertisement
Visit Our Student Center

Get on track!
And find out everything you need to know about planning for college.
Advertisement