See All
Colleges >
Financial Aid Timeline: Senior Year
Financial Aid Timeline: Senior Year
Knowing your college aid deadlines makes senior year more manageable.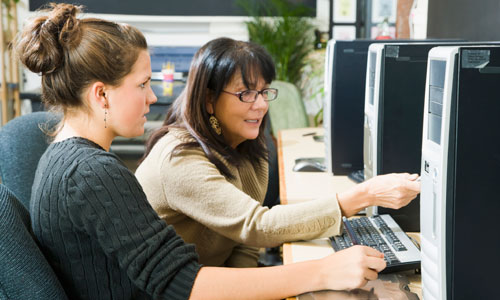 Photo: ThinkStock
Your last year of high school is bound to be a busy one. Between your tough senior classes, work, extra-curricular activities and applying to college, your free time is scarce, but one thing you should make time for is financial aid.
Don't get stressed about all the paperwork; millions of students apply for and receive college aid every year, and you can do it too. The key to getting the most college money you can is to know what's available and stay on top of your deadlines. This financial aid time-line will help your senior year from slipping away from you.
September
Set up a meeting with your guidance counselor to talk about the colleges and universities you want to apply to, and to talk about your financial aid options.
Create a calendar of the deadlines for college applications, scholarships forms and financial aid forms.
Sign up to take or retake your SAT Reasoning Test or ACT test.
October
Applying early? Starting October 1, the CSS/Financial Aid PROFILE form is available online for students applying to a school early decision or early action. Find out if the school you're applying to require this form in addition to the Free Application for Federal Student Aid (FAFSA) form.
Applying for school scholarships? Some colleges require that you submit your college applications early to receive priority consideration for certain college scholarships. Check the college's official website or contact their financial aid office to find out.
Men 18 and older need to register with Selective Service to be eligible for federal aid and state aid. Federal aid can end up being a large part of the college money you receive, so be sure not to miss this deadline.
November
Apply for more college scholarships. Be sure you keep track of which ones require the FAFSA form and which require the PROFILE. Some require both and others just one.
Apply for a Federal Student Aid PIN from the Department of Education. This will simplify the process of applying for federal aid by allowing you to "sign" your online FAFSA form and make any necessary corrections to your application information.
Submit the PROFILE form to colleges where you're seeking regular decision admission.
December
Keep researching and applying for scholarships.
Collect the necessary documents for your FAFSA form.
Were you accepted into a school early action or early decision? Then you should be receiving your financial aid reward letter. Remember, you don't need to accept all the aid you receive. College aid like federal grants and school scholarships are considered free money you don't need to pay back, but college loans come with repayment policies and interest rates. Make sure you accept on the aid you think you'll need.
January
The FAFSA form is available online starting January 1. Complete it as soon as possible to be eligible for the most aid for your college degree.
You'll be asked to submit information on your income and assets with your FAFSA. Your best strategy is to prepare your tax returns early so you have this information, but you don't have to submit your tax return before submitting your FAFSA.
Do any of your schools require the PROFILE form? The PROFILE form is due in February for priority consideration.
Do your schools require additional applications or forms for institutional aid? Contact each school to find out if one is required and what the deadlines are.
February
Happy Financial Aid Awareness Month. You'll be happier with your financial aid if you take advantage of any activities are being organized at your high school or through community groups this month.
Submit your PROFILE form, and any other required forms, by the February deadline for priority consideration.
March
Did you submit your FAFSA already? Good. Your Student Aid Report (SAR) should arrive 2 to 4 weeks after you submit it. If you haven't received it after that time, contact FAFSA on their website or though the Federal Student Aid Information Center at 800-4-FED-AID. Be sure you review it carefully to make sure it's accurate.
You should start receiving college admissions decisions and financial aid award letters this month. Good luck!
Need to earn money for school next year? Start looking for a summer job now.
April
Compare the financial aid award letters you've received from colleges and universities.
If your top university hasn't given you the aid you think you'll need, consider appealing for more aid. In most cases, schools will require you to submit a written request for more aid, outlining any financial considerations that they may have overlooked or that changed for the worse since you submitted your aid forms.
Make a final decision about school and let the schools know as soon as possible. This allows the schools you're rejecting to offer the aid they were offering you to other applicants.
May
Take your AP exams. Scoring well on these tests could earn you college credit, so make sure your scores are sent to the college you'll be attending.
Fill out your loan forms. If you still need additional aid, consider parent loans or private loans. Check student loans to make sure you fully understand terms and conditions.
If you haven't already, let schools know your final decision.
People Who Read This Article Also Read:
Financial Aid Timeline: Junior Year
You're In! How Are You Going to Pay for College?
10 Things You Need to Know About Paying for College
Top 5 Mistakes Students Make with Financial Aid
Paying for College: The Basics
What's Included in the Cost of Attendance (COA)?

Related Timeline Articles
Advertisement
Visit Our Student Center

Get on track!
And find out everything you need to know about planning for college.
Advertisement