See All
Colleges >
AP Classes: An Introduction
AP Classes: An Introduction
Learn how Advanced Placement classes help with your GPA, your applications and your college readiness.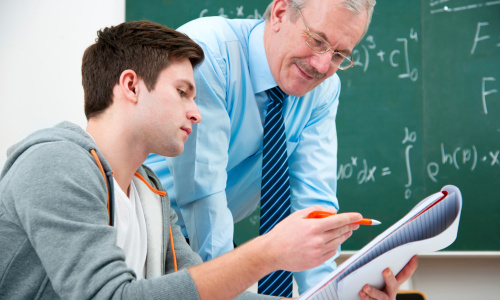 Photo: Thinkstock
Advanced Placement (AP) classes are challenging, college-level classes that students can take while still in high school. Schools typically offer AP classes to high-achieving students that qualify for a more advanced level of work in a specific subject. AP exams come at the end of the year and are graded by a panel of experts in the particular subject.
You probably know all this. But what can AP classes do for you?
The original aim of the AP program was to give students "advanced placement" in college in certain academic areas. This is still one of the benefits of the program.
AP classes have four primary advantages for high school students:
Experiencing college-level coursework first hand in high school
Potentially increasing your GPA
Demonstrating your academic seriousness on college applications
Testing out of requirements or getting advanced placement in college
The History of the Advanced Placement Program
The AP program began after World War II, as a way to give high school students an educational edge. Eventually, it led to a placement program - allowing students to enter college in advanced standing. In 1955, the College Board took over and began to grow the program, which continues to expand its scope. Today, AP courses are offered in over 30 subjects: including foreign languages, English, economics, the sciences, art, mathematics, history and more.
College-Level Courses
While the line between high school- and college-level academics has blurred somewhat in recent years, most high school students have not taken a college-level course when they begin freshman year. AP classes give an indispensable view into college academics for students. Many teachers run AP classes like college classes, giving students greater independence and requiring a higher level of preparation and analysis.
GPA Benefits
While it is not the only reason to take AP classes, the GPA benefits from strong academic work can be significant. Many schools add an entire point to the GPA derived from an AP class. So, for example, a B in an AP class, normally a 3.0 in GPA terms, becomes a 4.0. And an A can become a 5.0. This is the reason many students who take multiple APs often finish high school with a GPA greater than 4.0.
Of course, you'll need to do well in AP classes to derive this benefit. A C in an AP class is not better than a B in a standard class.
APs and College Applications
Students that participate in the AP program signal to college admissions officials that they are serious about education and that they're ready for college-level work. Many schools offer both an AP version of a class and a standard version. Students who choose the AP version are obviously indicating how serious they are about academics.
But again, just taking APs for the sake of taking APs won't benefit you on a college application. Poor performance in APs doesn't look good on an application. It's important to know your own particular academic strengths.
College Credit
The original aim of the AP program was to give students "advanced placement" in college in certain academic areas. And this is still one of the benefits of the program.
For example, if you "test out" of your college's language requirement by scoring a 4 or 5 on the Spanish Language AP exam, you won't need to spend your time in college meeting that requirement. You'll be free to use that academic time elsewhere. Or, if you decide to pursue the field of Spanish in college, you'll be able to begin your studies at a more advanced level.
Changes to AP Exams
The growth of the AP program, and the increased number of students taking the exam, has led to some reexamination of the goals of the program. In response to these new challenges, the College Board has decided to make changes to some of the subject tests.
In general, the trend is toward stimulating more independent and analytic thought by students – rather than just the pure recall of reams of information. For example, for students taking the biology exam, the College Board will cut the amount of material students are required to know. According to The New York Times, the biology exam will now "help students think more like scientists."
More changes are set to take place this year in German and French AP exams as well. As for Physics, Chemistry, European History, World History, and Art History – changes in these tests are set to take place in 2014-2015.


People Who Read This Article Also Read:
What is a GPA?
What is a High School Transcript and Why is it Important?
Valedictorians: Who Are They and How Are They Chosen?
Basic High School Graduation Requirements vs. College Preparation
What is Class Rank?
What's an International Baccalaureate?
Taking College-Level Classes Outside Your High School
Taking Vocational Courses in High School

Related Timeline Articles
Advertisement
Visit Our Student Center

Get on track!
And find out everything you need to know about planning for college.
Advertisement