See All
Colleges >
Types of Culinary and Hospitality Certificate Programs
Types of Culinary and Hospitality Certificate Programs
Learn about different types of culinary and hospitality career training.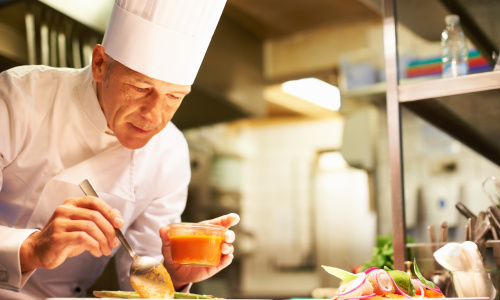 Photo: Thinkstock
Hospitality is the largest industry in the world. As long as people are still taking vacations, going out to eat and enjoying leisurely activities, hospitality will continue to thrive.
Hospitality includes all businesses that serve for the enjoyment of their clients. It can include, but is not limited to, restaurants, hotels, motels and travel services. Most of the time, all you need is a hospitality certificate to get you started on your career path.
Cooks and bakers don't always need formal training, but it can help widen your prospects beyond your local diner.
Restaurant Certificates
The restaurant business can be fickle. There is always someone to fill an open position, but a certificate can make you stand out among the crowd of applications.
A restaurant and food services certificate can be valuable to people who do not have any experience in the restaurant business and feel more comfortable getting training before starting a job. Other possible candidates for this certificate might want to advance to a career in fine dining that requires additional knowledge and skills.
Cooks and bakers don't always need formal training, but it can help widen your prospects beyond your local diner. Rather than working for years at the same restaurant only to find out you still don't have the experience even to be a chef's assistant, you could earn your culinary arts certificate or baking and pastry arts certificate and gain the knowledge you need to start your career immediately.
Travel Services Certificates
Workers in travel services are expected to keep up-to-date with the latest information on the industry. This is especially true today because of all the websites with tourist information that travel agents must compete with.
A tourism and travel services marketing certificate, teaches you the best way to market your vacation packages to various groups of people. You take courses such as international tourism, entrepreneurship in tourism, human relations and business correspondence. If you need general help with your sales skills, get a selling skills sales operation certificate.
Hospitality Management Certificates
Typically you don't need any postsecondary training to break into the hospitality business, just a friendly demeanor and natural organizational skills. But it can take a while to work your way up from busboy or bellhop to manager.
Are you in the restaurant business and want a faster track to a better paying position with more responsibility? Get a restaurant and catering management certificate. In this program your courses will include scheduling, inventory, kitchen management and catering production.
If you know that you could do a better job running the hotel than you can piling bags onto a luggage cart, earn your hotel/motel management certificate. This management program includes courses such as organizational leadership, the reservation experience, hospitality law and banquet and event planning.
You might be interested in managing a travel company, clothing store or golf course. Or, you might have no idea which area of hospitality you are best suited for. In this case, a hospitality management certificate is your best option for quick start to your new career.


People Who Read This Article Also Read:
What Are Certificate Programs?
Is a Certificate Program Right for Me?
Online Certificate Programs
What Types of Schools Offer Certificate Programs?
Paying for Your Certificate Program
20 In Demand Certificates
Earning More Than One Certificate
Career Prospects with a Certificate

Advertisement
Visit Our Student Center

Get on track!
And find out everything you need to know about planning for college.
Advertisement