See All
Colleges >
MOOCs for Engineering Students
MOOCs for Engineering Students
Engineering is a broad field, so use these MOOCs to find out what's right for you.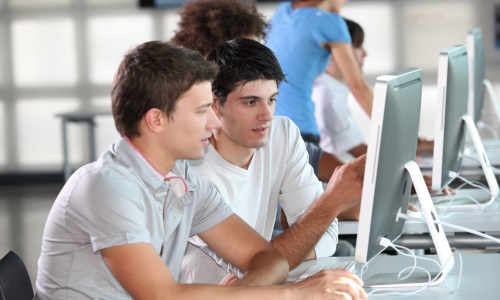 Photo: Thinkstock
By Christopher Geno
MOOCs are particularly helpful for incoming college students who are thinking about majoring in an engineering field and want to sample the different kinds of engineering fields. Engineering students can also benefit from MOOCs because they may want to learn about topics complementary to their study or simply learn more about other engineering disciplines they may be less familiar with. Whatever your reason, find out if any of these free classes offered by famous colleges and universities can help you.
Engineering is an intense field and lectures alone might not be enough for new students. Consider an interactive MOOC with assignments and homework from Coursera.org.
Fundamentals of Electrical Engineering
Anyone interested in exploring technology will fit right into this course offered by Rice University through Coursera.org. The course discusses "the creation, manipulation, transmission, and reception of information by electronic means" including topics on both analog and digital signals and how we extract and change the information encoded in these signals. The professor recommends knowledge of both differential and integral calculus as a prerequisite to the course.
Introduction to Engineering
Due to the nature of engineering's many applications, there aren't many classes that act as a survey of the entire field. If you wanted to take a basic engineering class at a college or university, you typically had to pick an intro course to a specific discipline.
To fix this, Duke University's Pratt School of Engineering created this course as "a broad overview of what 1 going on in the school." Now you don't need to pick between chemical, mechanical, biomedical or nuclear engineering. You can learn a little bit about all of them and decide your interests from there.
Introduction to Chemical Engineering
If you're just getting started in college and think chemical engineering might be right for you, consider trying this introductory course taught by a professor from Stanford University. In addition to engineering topics, the course also discusses applications for chemical engineering, which can be just as important in the oil industry as it is in diagnosing disease and innovating in organ donation.
Civil and Environmental Engineering
This iTunesU course from the University of California, Berkeley deals with civil engineering, a discipline that focuses on the design and construction of roads, buildings, bridges and other manmade physical structures.
Introduction to MEMS Design
Also taught through UC Berkeley, this MOOC introduces a specialized topic pertaining to both electrical and mechanical engineering called MEMS to students. Microelectromechanical systems (MEMS) are the technology behind devices that generally range from the incredibly small size of 20 micrometers to one millimeter. Printers, microphones, gyroscopes, accelerometers and pressure sensors are all devices built or improved upon by MEMS.
Engineering Statics
Students who aren't quite ready to tackle tough engineering courses, but aspire to become an engineer in the future can benefit from Carnegie Mellon's MOOC on statics: "the study of methods for quantifying the forces between bodies." Statics is an important prerequisite class for branches of engineering like mechanical, civil and bioengineering that you can take before getting into more specific engineering topics. No calculus is required and only basic physics courses are recommended as prerequisites.
Quick Tips
Engineering is an intense field and lectures alone might not be enough for new students. Consider an interactive MOOC with assignments and homework from Coursera.org.
If you're interested in engineering but aren't ready for the classes yet, look at our MOOCs for students who like science. Chemistry and physics classes are great prerequisites for engineering.
People Who Read This Article Also Read:
Colleges with Massive Open Online Courses (MOOCs)
How MOOCs Can Help You Choose a Major
How to Use MOOCs to Get Your Dream Job
What is a Massive Open Online Course (MOOC)?
Advertisement
Visit Our Student Center

Get on track!
And find out everything you need to know about planning for college.
Advertisement