See All
Colleges >
Fun Halloween Activities for Your Dorm
Fun Halloween Activities for Your Dorm
Don't let Halloween go by without giving it the proper attention it deserves.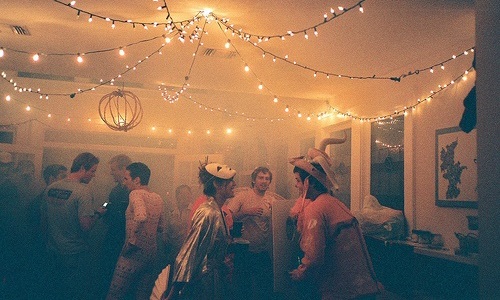 We personally think that Halloween deserves more than just one night of costumed drunken debauchery, and living in a dorm provides a great forum to celebrate the holiday. We suggest you engage in the following five festive activities (there's too much food, a lot of fun, and genuine fright involved; we promise).
Now you have no excuses to sit in your bed watching Netflix for the entirety of October.
Host a Halloween potluck.
Everyone loves food, but no one's going to take it upon him or herself to cook up an entire feast for the whole dorm. Hence, the potluck: a delightful little affair where everyone only has to bring one thing. You can ask some people to bring appetizers, some to bring entrees, and some to bring dessert items, or just make it a free-for-all (and then thank your lucky stars when you're forced to eat nothing but chocolate for dinner). As far as what to bring, consider one of these tasty snacks that are right on theme.
Create a creepy haunted house.
If you're not lucky enough to live in a dorm that's legitimately haunted (hey, it happens), help everyone get into the spirit by making your surroundings super scary. Transform the largest common room or space in your building by getting creative with fog machines, projectors, sound effects, and creepy decorations and crafts. You can even charge admission and then donate the money to a good cause (like, you know, booze).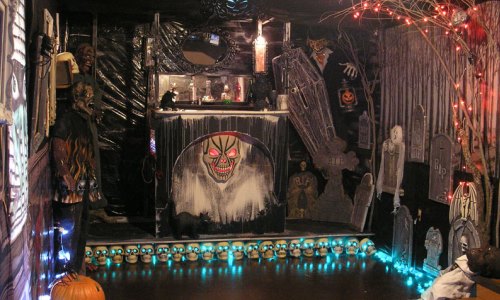 Head up a costume contest where winner takes all.
Don't let your dorm mates get away with being lazy this year. The best way to get your friends amped to actually dress up: hold a costume contest and have everyone bring a gift (food, booze, or something totally funny and useless). Throw all the presents in a pile and let winner take all. Quick tip: consider picking an awesome DIY costume if you want to make something unique on your own.
Trick or treat with pride.
Just because you're (kind of) an adult now doesn't mean you have to pretend not to like candy. Choose a designated night to trick or- treat and ask every dorm room to have some candy ready to give out. Bonus points if you can get other dorms involved, too (like we always say, the more candy the merrier).
Host a scary movie night.
Grab gallons of popcorn, take over the common room, and invite your friends to enjoy a movie marathon that's not for the weak at heart. Consult a "best of" list ahead of time to decide on which films will be the freakiest, then watch them from oldest to most recent. Throw in a couple spoof movies (like the Scary Movie series) to lighten things up if you must. Bonus points if it's a dark and stormy night outside.
Now you have no excuses to sit in your bed watching Netflix for the entirety of October, do you? We're so mean, we know. But we only have your best interests at heart, dear.
People Who Read This Article Also Read:
Tasty Halloween Dorm Snacks
Halloween Costumes You Can Make in the Dorms
13 Colleges With Halloween Spirit
7 Colleges With the Most Spooky Dorms
Quick Search: Find the College that's Right for You!
Advertisement
Visit Our Student Center

Get on track!
And find out everything you need to know about planning for college.
Advertisement