Alaska Colleges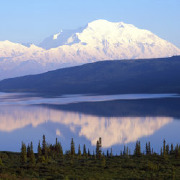 Home to grizzly bears, breathtaking scenery, and the Northern Lights, Alaska, the largest state in the US, only has about a dozen colleges and universities to choose from. About half of Alaska's population resides in the major freight port Anchorage and many of the Alaska colleges and universities are located there as well including the University of Alaska, Anchorage and Alaska Pacific University. Beyond Anchorage, the University of Alaska has campuses in four other cities including capital city Juneau, the largest interior city Fairbanks, the "Salmon Capital of the World" Ketchikan and Sitka, a city located on an island in the Alexander Archipelago in the Alaska Panhandle. You'll also find private colleges and community colleges in Alaska.
Alaska College and Degree Offerings
From 2-year career training degrees and certificate program options as community colleges all the way up to bachelors degree and masters degree programs at 4-year schools, the colleges in Alaska provide a wide range of reputable educational opportunities. In fact, Alaska Pacific University has been ranked one of the Top Master's Level Universities by US News & World Report and the University of Alaska-Fairbanks is highly rated among colleges in the West. For 2-year career training degrees and a selection of certificate programs, many students look to Alaska Vocational Technical Center and Ilisagvik College, the first of five planned tribally-controlled colleges, this school is also dedicated to strengthening the Inupiat culture. Because Alaska colleges are few and far between, online degrees are another popular option for residents as they open up the door to an endless selection of programs and majors.
Alaska Career Opportunities
Students seeking in-state job opportunities after attending one of the colleges in Alaska will find the majority of career opportunities located in the metropolitan areas of Anchorage and Fairbanks. That said, some careers are in demand throughout the state such as Health & Medical Services making degrees in Pharmacy Technician/Assistant, Massage Therapy and Medical Assistant Professions top choices. With a great expanse of wildlife, coastline, scenery and adventure to explore, it's no surprise that the hospitality and tourism industry is one of the fastest growing career sectors in the state. From taking tourists out on fishing excursions to cooking the day's catch, look to local school programs to prepare you. Alaska colleges offer degrees in Culinary Arts, Food Services and Parks, Recreation and Leisure. Also because of the big focus on wildlife, you'll find many schools in the state offer degrees in Environmental Studies, Ecology, Biology and Marine Biology and Biological Oceanography. Finance and Accounting & Related Services majors will also find ample opportunities in the field of business.
Top 10 Most Popular
Alaska Colleges
Advertisement